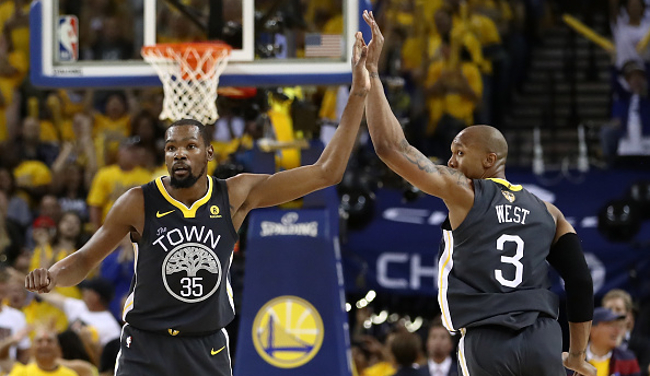 It was David West who acted as the oracle (so to speak) of all the Warriors drama we've witnessed this season. It was in the locker room right after Golden State had won their second straight title that the veteran forward told reporters that they had "no clue" about what it had been like behind the scenes last season, that people would be "shocked" if they found out.
Some tried to dismiss his statements as an effort to simply troll the media in the wake of another relatively easy championship run, but what we saw on the sidelines earlier this season between Kevin Durant and Draymond Green appears to tell a different story, one of simmering resentment between two of the team's most fiery personalities.
Now, it appears West's veteran presence in the locker room — not to mention his rather intimidating, no-nonsense disposition — may have been one of the few things keeping these apex predators from locking horns, publicly or otherwise. At least, that's what West thinks.
In a recent interview with Sam Amick of The Athletic, West says that whole high-profile argument between Durant and Green never would've happened on his watch.
For most of his career, West was one of the league's most respected players, and it's not a stretch to think that he acted as a buffer for whatever personality clashes have been happening in the Warriors locker room the past couple of seasons. If there's anyone on Earth who can keep simmering bad blood between teammates from boiling over, West might be that person.
They certainly could've used his presence to help broker a peace, but what happened happened, and it remains to be seen whether it will spell the end of this Warriors dynasty, or be just another blip on the screen on their long road to dominance.