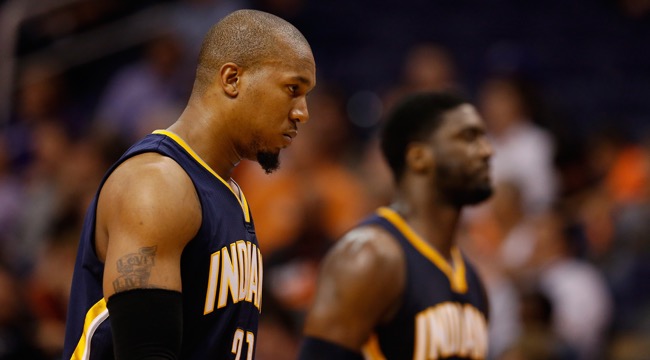 David West is 34 years old. He's a 12-year veteran and two-time All-Star, a vaunted locker room leader who can still make an impact on both ends of the floor in the twilight of his career. But that doesn't mean West's decision to opt out of the final season of his contract with the Indiana Pacers – one which would have paid him $12.6 million – was the prudent financial decision.
He also doesn't seem to care.
In a sprawling discussion with Bob Kravitz of WTHR Sports, West explained his justification behind becoming a free agent, displeasure with Indiana's treatment of Roy Hibbert, and why last season's NBA Finals was the first he watched in many years.
On leaving the Pacers and hitting the open market:
At this point in my career, I just want to win. I'm just not sure the Pacers are in title contention right now. I'm going into my 13th season. I'll be 35 soon… But I just don't know if the team is in the position to win right now and I didn't know if I'd have that opportunity to win a title if I'd stayed with the Pacers.

At this point in my career, it's all about winning, and again, I don't want to be in a position where we're just fighting to make the playoffs, I want to be in a spot where we can legitimately taste the finals.
Does that mean West won't be signing with the New York Knicks this summer as rumored? Pretty much.
Nothing could have convinced West to play just one more season in Indiana, let alone finish his stellar career where he enjoyed a fruitful renaissance. Still, it's fair to say that the team's public derision of Hibbert following the 2014-15 season makes him a bit more comfortable spurning the Pacers.
That's one thing where I wish they would have handled better was the situation with Roy. I'll be honest with you, that bothered me a little bit, and I told Roy that. I'm the type of guy who feels like we're all in this fight together and I'm not designed in that way to put it all on one guy. That did rub me the wrong way. That threw me off. I started reading some of that stuff, I started thinking, 'Whoa.' I just didn't feel good about that. I told Roy that it bothered me, that he's still my teammate.
Nevertheless, West hadn't completely made up his mind on hitting the open market until early last month. Why? He says watching the Finals, something he hadn't done for years out of frustration, helped him realize what's most important as his playing days near an end.
But [Hibbert's situation] was not the straw that broke the camel's back. I just watched those finals, and I thought, 'Man, I've got to give myself a chance.' That's the reason I made this decision… Absolutely, it was not a financial decision, and that's what's so perplexing to people. I just want an opportunity to win it all.
West is obviously a player who fully realizes his basketball mortality. He told the Indy Star last August that he contemplated retiring immediately after Paul George broke his leg, and now admits that the 2014-15 season was "the longest, most emotionally draining" of his career.
Having never sniffed the NBA Finals let alone won a title, West has one goal before finally hanging it up… getting the Larry O'Brien Trophy. According to Sam Amick of USA Today, he could even go so far as to sacrifice more millions by signing with the Golden State Warriors or San Antonio Spurs.
[West] has serious interest in playing for the San Antonio Spurs or the Golden State Warriors.
Golden State is limited to offer West the tax-payer's midlevel exception of a $3.3 million salary or the veteran's minimum. San Antonio's cap situation isn't set in stone, but its options would be the same should LaMarcus Aldridge come aboard. If not, perhaps the Spurs would be interested in offsetting the loss of Tiago Splitter by offering West the midlevel exception, worth approximately $6 million annually.
If West's hopes of signing with either of the past two champions prove nothing more than that, one thing's for sure: He'll be playing for a winner in 2015-16, earning capacity be damned.
[Via wthr.com, via USA Today] [Via Bob Kravitz]