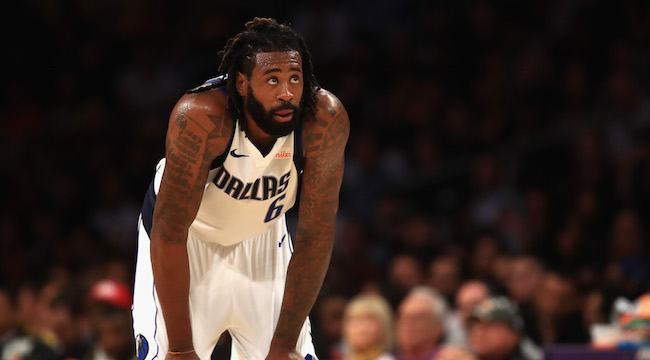 After a slow start, the Dallas Mavericks have won three of four and, at least on the surface, it appears as if the team could be rounding into form as a solid-yet-unspectacular team in the Western Conference. However, expectations were a little bit higher in some circles for the Mavericks and, given the exceptional play of rookie Luka Doncic in the early portion of his NBA career, it stands to reason that a 5-8 start would be cause for some level of disappointment.
On Monday, Tim MacMahon of ESPN shed a bit of light on one particular aspect of the Mavericks in the site's power rankings. In short, it was a cautionary tale in evaluating free agent addition DeAndre Jordan and how his raw statistics don't paint the most accurate picture of his early-season contributions.
Don't be deceived by DeAndre Jordan's solid statistics. He has been a major disappointment for the Mavs. He has rubbed teammates the wrong way with what they perceive as selfish play, the most blatant example being when he stole an uncontested rebound from Luka Doncic by putting his forearm in the prized rookie's back and tipping the ball away. Jordan's disinterest in playing help defense has been a big problem as Mavs opponents light up the scoreboard.

As MacMahon notes, the veteran big man is averaging 11.2 points and 13.7 rebounds per game and, as is customary with Jordan, his efficiency is impressive to the tune of 62.4 percent shooting from the field. Beyond that, Jordan is suddenly a good free throw shooter, making 81.3 percent of his attempts at the stripe, which would seemingly be a recipe for something of a feel-good story.
Still, MacMahon's reporting indicates that there is some potential unrest in Dallas with regard to Jordan and a deeper look at his early-season play yields a less favorable picture. Perhaps the most damaging nugget comes from the on-off numbers, as the Mavericks are being outscored by 6.1 points per 100 possessions with their center on the floor. When Jordan heads to the bench, Dallas is actually outscoring opponents by a hefty margin (+6.7 points per 100). Even with small sample size caveats, it has been clear that the Mavericks are operating at a higher level without Jordan.
It stands to reason that, at the age of 30, Jordan would be turning the corner toward the twilight of his career, particularly with his reliance on size and athleticism to this point. Still, the rumblings behind the scenes could be cause for concern and, if nothing else, this reporting can serve as a reminder that box-score statistics often don't tell the entire story.