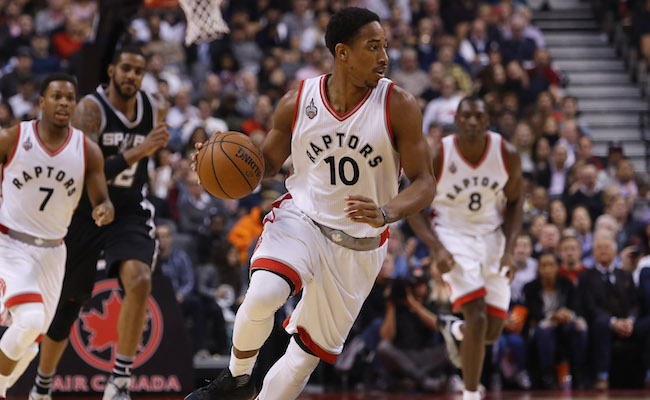 In the aftermath of a deal that sent Kawhi Leonard to the Toronto Raptors, new Spurs star DeMar DeRozan received all kinds of uplifting messages from players (and other personnel) across the NBA. Much of the outrage following the trade stemmed from DeRozan's assertion that the Raptors met with him during the Las Vegas Summer League and essentially indicated that he wouldn't be traded, causing quite the reaction from DeRozan on social media when the trade was complete.
The situation even prompted Raptors president Masai Ujiri to apologize to DeRozan during a post-trade press conference but, on Tuesday, DeRozan sat down with ESPN's Chris Haynes for a wide-ranging interview to discuss his current mindset and, especially, his reaction after the deal went down last week. As part of that discussion, DeRozan was prompted on his prior relationship with Ujiri and how that affected the way he felt about the deal.
"No question. I mean, when you use the word "family," "brother" or whatever, things other people use lightly … for me, once you use that term, I stick by that term. I stand by that term. So whether it's something I like or don't like, I'm going to accept it if you come to me and let me know beforehand. But don't make one thing seem like another thing and catch me off-guard and do something else. That was my whole problem. I understand how the game works, how the business works. My mindset was that I was always going to be in Toronto my whole career, but I was never naive. Just let me know. That's where my frustration came from. And I think it showed. From the fans to even myself — it just caught me completely off-guard."
It is easy to see why DeRozan would be bothered, particularly if he didn't see the trade coming in any way.
In fact, the All-Star swingman shared that perhaps his biggest gripe stemmed from simply operating in the dark when it came to the way the trade negotiations occurred.
"I felt like I wasn't treated with what I sacrificed for nine years, with the respect that I thought I deserved. By just giving me the say so of letting me know something's going on or it's a chance. That's all I wanted. That's all I wanted. I'm not saying, 'You don't have to trade me' or … just let me know something is going on because I sacrificed everything. Just let me know. That's all I asked. Everybody know I'm the most low-maintenance person in the world. Just let me know, so I can prepare myself for whatever my next chapter is, and I didn't get that."
The full interview is absolutely worth a watch/read, simply because the dynamics involved are incredibly interesting. DeRozan may not be the best player in the history of the Raptors organization but it would be easy to argue that he is the most accomplished and, given the fact that he re-signed in Toronto on two separate occasions, the word "loyalty" has been thrown around quite a bit in the last several days.
At some point, the two parties will settle in to their new alignments, with DeRozan operating as a member of the Spurs and the Raptors moving on with a new centerpiece. For now, though, the wound is still fresh for one significant piece of the deal and DeRozan seemingly wanted more clarity and information before being shipped to Texas.