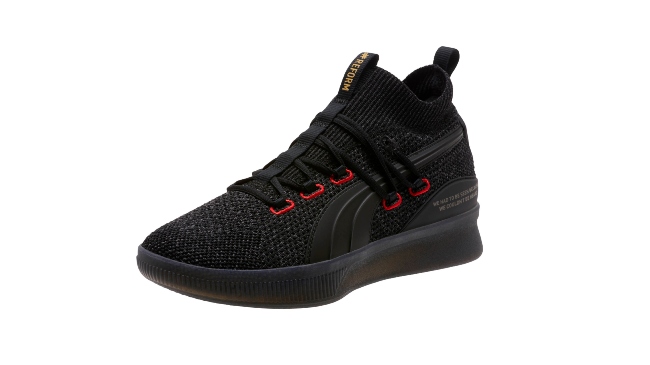 Puma's return to the basketball sneaker game hasn't just meant that it has made kicks for a collection of NBA players. With its recently-acquire mantle as the new kid on the block, Puma has decided to get involved in advocacy, most notably with the Puma Clyde Court Peace On Earth, for which $5 of every purchase went to the Trayvon Martin Foundation.
The next upcoming Puma release will take a similar approach to raising money for an important cause, as the company announced the debut of the Clyde Court #Reform. The sneaker was inspired by Meek Mill and his passion for criminal justice reform, and in a release, Puma announced that 100 percent of proceeds from sales of the sneaker will go towards the REFORM Alliance, an organization spearheaded by Meek Mill, Jay-Z, Philadelphia 76ers co-owner Michael Ruben, and New England Patriots owner Robert Kraft.

The kicks follow the general design of all the Clyde Court releases so far. It's an all-black colorway with a few interesting details, like #REFORM in gold letters on the tongue and a quote by Olympic gold medalist and Puma ambassador Tommie Smith — "We had to be seen because we couldn't be heard" — on the outer sole.
Per a release, the black is meant to represent the American criminal justice system in which "many people face unjust sentences that do not fit the crimes for which they have been convicted," the red represents the "blood and sacrifice" of those who fight for justice, and the gold looks to celebrate "the victories that we will achieve together when organizations and individuals come together to work for much needed reform."
Those who watched the Golden State Warriors or the Phoenix Suns play on Thursday night got a glimpse at the kicks, as Warriors center DeMarcus Cousins and Suns center Deandre Ayton wore them on the floor.

The sneakers also got some love on Twitter from Raptors wing Danny Green and Kings big man Marvin Bagley III.
Puma will drop the Clyde Court #Reform on Feb. 1.