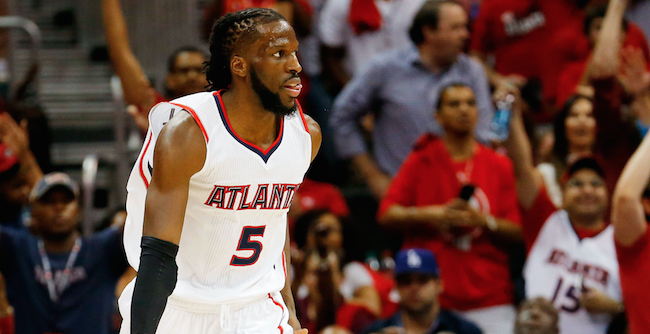 The Atlanta Hawks' free agency dominoes are falling more quickly than anyone anticipated.
Just moments after their trade for Spurs big man Tiago Splitter left them without the requisite cap space to sign its incumbent free agent, DeMarre Carroll announced that he has agreed to a contract with the Toronto Raptors.
Yahoo Sports' Adrian Wojnarowksi reports that the 28-year-old's deal is worth $60 million over four seasons.
This is a major boon for Toronto. Not only will Carroll provide the necessary floor-spacing to best supplement the games of Kyle Lowry and DeMar DeRozan, but he immediately becomes Dwane Casey's best perimeter defender, too. Considering the Raptors' widespread failings on that end as the 2014-15 wore on, Carroll's addition looms even larger than his reputation suggests.
There was speculation upon the trade for Splitter that Atlanta czar Mike Budenholzer might prefer to keep Carroll in the fold as opposed to Paul Millsap, but that thinking never passed the smell test. What makes the Hawks so great is their ability to move the ball and make plays from all over the floor, an attribute that would have been mitigated by moving Al Horford to power forward and playing him with a more traditional big man like Splitter close to full-time.
The Orlando Magic are hot on Millsap's tail, but Atlanta will supposedly match their offer for the first-time All-Star. Via NBA. com's David Aldridge:
It would be a minor shock if Millsap elected to leave the Hawks for the Magic. Not only did he prove a perfect stylistic fit in Atlanta over the past two seasons, but at 30 years old, the window of his prime has already begun to close, too.
Losing Carroll is a blow for the Hawks. The defensive-oriented Thabo Sefolosha will likely take his place in the starting lineup, while the recently acquired Tim Hardaway, Jr. and seldom-used sharpshooter John Jenkins will combine to pick up the offensive slack of his departure.
As long as Millsap re-signs, this roster shuffle is a minor on-paper upgrade for Atlanta. And considering how well the Hawks played at their peak last season, maybe it could be the difference that helps them get over the hump in the East.