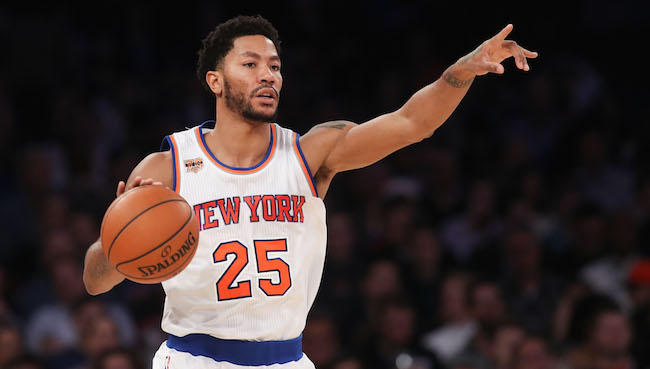 Even before we learned that Kyrie Irving had asked the Cavaliers for a trade in order to find a starring role outside of LeBron James' shadow, there were rumors that the Cavs were having discussions with Derrick Rose about a possible 1-year, $2.1 million minimum deal. Now, with Irving apparently on the way out after requesting a trade whenever Cleveland can find a palatable deal, the need for a point guard is even stronger, and the push for Rose is reportedly gaining steam from the Cavs.
According to ESPN's Adrian Wojnarowski, Rose is meeting with the Cavs in Ohio as their discussions become more serious. Rose had a reported meeting with the Lakers on Friday, and there were conflicting reports about potential interest in a reunion with the Bulls. With money clearly not the determining factor for Rose — he would either receive a minimum deal in Cleveland or $4.3 million of the Lakers' remaining exception money — he is reportedly deciding based on role.

In L.A., that role would be veteran presence, assisting Lonzo Ball in his rookie year as the Lakers hope he can become their star point guard of the future. In Cleveland, it was expected originally when rumors began he would be serving as Irving's backup, but now that role seems likely to expand — pending what comes back in return for Irving — into potentially a starting job alongside LeBron James.
Rose would be able to pick up some of the scoring load left behind by Irving's absence at the point guard position, but he's a considerably worse perimeter shooter, which will likely exasperate spacing issues in Cleveland. If, as Woj notes, Rose is looking for a situation to boost his value off of a 1-year deal, the there's probably no better spot than the Cavs despite the apparent dysfunction in Cleveland. Few players have every played next to LeBron James and looked worse than they did elsewhere, and he would have a chance to have a significant role on one of the East's best squads.