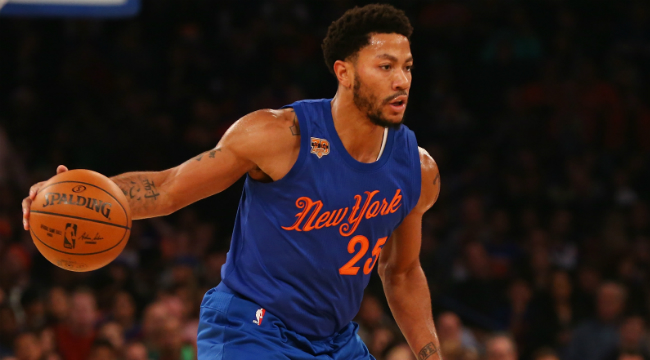 The trade for Derrick Rose was one of the biggest gambles of Phil Jackson's tenure in charge of the New York Knicks. The former MVP is one of the most notably injury-prone players in the league, and last year he was pretty ineffective when he was on the court. But so far, he's been as good as anyone could have hoped — a notion backed up by NBA scouts in a piece by ESPN.
In terms of basic box score numbers, Rose has been a tick better than since his major ACL injury — his points per game is up to 17.7, and more importantly, his field goal percentage is up to 46 percent this year, from a shade under 43 last year. It looks like he's taken the next step in a linear progression away from his catastrophic knee injuries, and scouts say the tape backs that up.
"He's been solid so far, passed each and every test," an Eastern Conference scout said of Rose recently. "He's given them everything they could've expected."

The biggest improvement has been in Rose's shot selection — he's taking far fewer three-pointers, which has always been an inefficient shot for him, and attacking the rim more often. It was his bread and butter when he won the MVP award, and it's back to being his main focus in New York. Of course, now his shots near the rim are more of the floater variety than thunderous dunks, but he's been knocking them down, as ESPN lays out:
He's averaging 9.7 drives per game and is shooting 54.4 percent on them, per NBA.com's tracking.

That's an increase from previous seasons and puts him in pretty good company around the NBA. His field goal percentage is the third-highest among the 13 guards who attempt at least five shots off drives per game, per NBA.com. And Rose currently ranks 10th in the NBA in scoring off drives (7.4 PPG).
Where Rose needs to improve is, unsurprisingly, on defense and in passing the ball. He gets blinders on when he penetrates and misses open shooters on the outside, though he gives good service when he does kick it out. On defense, he's just like the rest of the Knicks — easy to screen, and sloppy on his rotations and switches. But he's improved the Knicks with his presence and has given them more balance, which was no sure thing going into the year.
Rose may no longer be the automatic star we once thought he'd be for a long time, but he's a solid third option behind Carmelo Anthony and Kristaps Porzingis, which should be plenty to get the Knicks into the playoffs.
(Via ESPN)