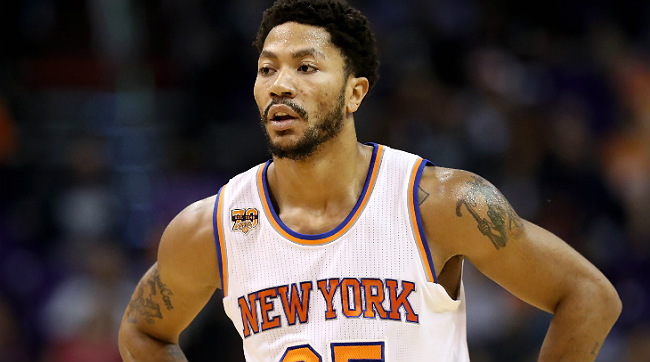 There are a lot of possible moves Phil Jackson and the New York Knicks can make this summer. Everything seems to start and end with what happens to Carmelo Anthony, but the fate of Derrick Rose is also undecided as the NBA transitions to its offseason. Rose is an unrestricted free agent this summer, but the early indication is that he's in favor of staying with the Knicks after a season that ended prematurely and with knee surgery.
Bleacher Report spoke to Rose's agent as part of a larger exploration of what the Knicks should do this offseason. (Bleacher Report's suggestion? Tank.) Either way, B.J. Armstrong had some interesting things to say about Rose's fate.
"Derrick loves New York and wants to be there," Rose's agent, B.J. Armstrong, told Bleacher Report recently. "We've expressed that to them and been very consistent about it. Whether it happens is on them; all we can do is be clear."

Armstrong said Rose, who underwent surgery to repair a torn meniscus in his left knee in April, is healthy and working out. He also insinuated that Rose would be willing to take a pay cut (he made $21.3 million last year).

"In the end, we want to explore everything—if you're going to compete, you clearly need a number of [top] players, so let's figure that out," Armstrong said. "We want the best team possible. That's it. All the other stuff, if the team wins, everyone wins."
Rose is clearly interested in staying in New York, even at a personal cost. That's a very interesting angle to the Knicks' offseason plans. But that's just one of many different roster decisions Jackson and the Knicks could make.
They could also do some interesting things at next week's NBA Draft, if they so choose. Many mock drafts have them taking a point guard, while Malik Monk's workout on Thursday was all about the triangle. He could be a key part of the Knicks offense next season if he gets taken at nine, and might a better, younger direction for the the Knicks to go.