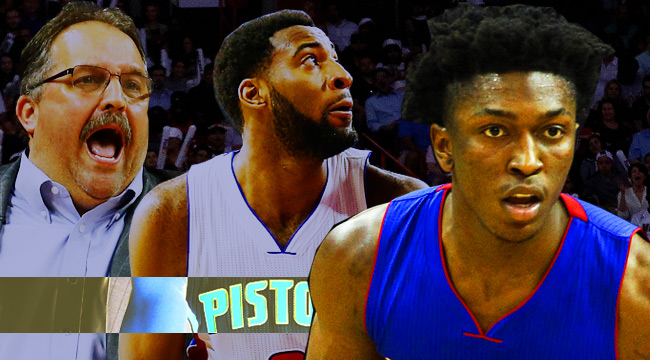 Welcome to Hoop Dreams, a season preview unlike any other you'll read before the 2016-17 season tips off. The premise is simple. We'll be providing 30 of these fictional forays because it simply stinks that only one team can win the title each year. The list of contending teams seems to shrink with each campaign, and we wanted to provide something to those fans who only get to dream of Larry O'Brien during the offseason. Before October, every team can win the NBA title. Don't believe us? Then keep reading. – Ed
---
The Detroit Pistons will start off the 2016-17 NBA season off with a whimper. Starting point guard Reggie Jackson has been injured and is going to miss several weeks. This is a problem unless, of course, you know that new reserve man Ish Smith is set to progress from basketball dork mock-cult legend to Scintillating Pick-and-Roll Guy, within the harsh truisms of Stan Van Gundy's schemes.
It will become clear that SVG has built a rarefied factory of professional basketball competence when Jackson comes back and Smith is playing so well that no one's quite sure about which one of them will start. Jackson will, inevitably, but often Detroit will seize victory when Smith leads the second unit through game-changing runs in the later minutes of the game.
This is very good. Even better is the emergence of Stanley Johnson. The second-year small forward will look back to the seed of hubris he planted when he jawed at LeBron James in last year's playoffs. He will do this throughout the season, imagining how tight he felt when he barked at the King as he becomes the kind of guy that fans will actually spend money on. He will have style, boasting a singular mix of speed and power and beautiful arrogance. When you see him stomp all over the court with grace, you will think the Pistons should still have a horse that is on fire as their logo.
Andre Drummond? He will remain very good. He will even improve, by finally accepting the doofiness of shooting under-handed free throws as part of his existence — he will accept that he can't always look cool, after a three-week Buddhist seminar with Van Gundy — and make 67 percent of his free throws. As another result of that time spent meditating in robes with the swarthy coach, Drummond will also exhibit a kind of time-transcending footwork with his back to the basket, all slowness and sudden jabs to the rim when everyone else is stuck wondering about the cosmos that he himself feels in his bones, and allow the Pistons to develop an in-out offensive threat that makes Fred Hoiberg weep at night.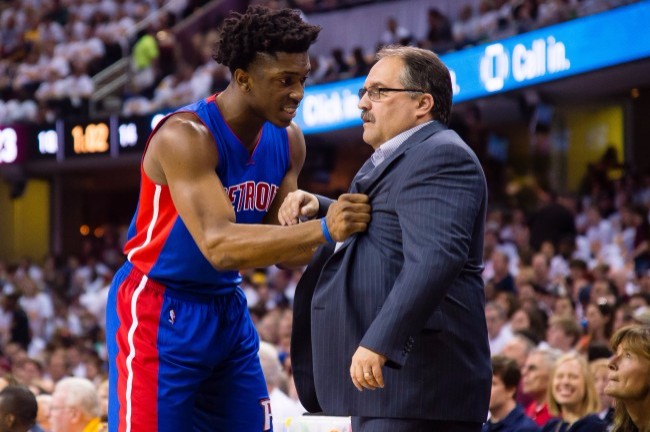 None of this answers the question of LeBron James, though, who is much easier to jaw at then he is to defeat. The Pistons will unseat the Cavaliers' dominion over the Eastern Conference when Johnson, in March, whispers something in James' ear during a free throw that sends the world's best player unraveling. No one will know what it is that Johnson says, ever, but the look in his eyes when he does it will be striking enough to know that we don't want to hear it.
The magic few words that he speaks to deconstruct LeBron will not really even be debated or speculated upon much. The spiritual swoon that James takes upon hearing Johnson's brief magical language elixir will be so difficult to watch that it will inspire fear in anyone who comes with speaking range of Johnson, who will win the Most Improved Player award and lead Detroit's second-round plowing of the Cavs. Cleveland just won't look the same.
When the Pistons meet the Warriors, the mythos of Johnson, and Drummond's stolid rim-protection, will have no trouble thwarting a Finals foe that has been steeped into interpersonal gossip wars anyway. Draymond Green will have made a public comment about Steph Curry's religion that makes Curry almost never pass to him again. Golden State will become uncomfortable to view, and the Pistons will be workmanlike enough to build victories atop their confusion, even as Kevin Durant reliably scores at will.
Trust us, it's going to be really good. This is what you should believe when the season begins and and still has room for dreams the type of which Johnson, regardless of how the Pistons fare this year, will carry forward for this team beyond 2017. He might even end up with a ring to prove it.