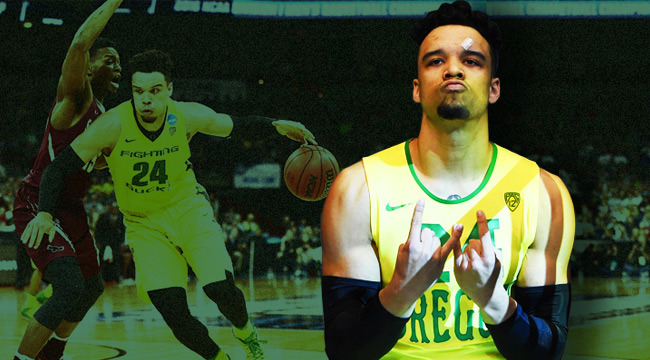 Oregon has become one of the NCAA's sleeping giants in basketball. The reigning Pac-12 champions have developed and grown into one of the most talented teams in the country. And while they preach system basketball where no one individual player takes all the shots, they have a supreme talent in forward Dillon Brooks who's helped carry the Ducks from good to great. Yet still, many NBA mock drafts have him barely listed in their top-60 due to "physical limitations" and other non-factors.
"I don't look at that stuff," Brooks tells DIME in regards to mock drafts. "The way I see it, the NBA is going a different direction. They want power forwards who can handle the ball, score, and do a little bit of everything. So while that may make me positionless, I'm also role-less, meaning that I can play in any role."
Brooks has a point. As the NBA shifts from a traditional style of play to a pace-and-space game, more players with a similar skillset to Brooks have become hot commodities in a league that craves do-it-all type players. Not only can Brooks score from outside-in, but his defensive ability along with his playmaking and ball-handling make him extremely unique as a basketball player.
"I want to be known as one of the best players in the country," Brooks says. "I can do a lot of things that a lot of players in the country can't do, which makes me one of the most versatile players in the country as well."
Sitting at 26-4 on the season, Brooks and his team are in a great position for a deep NCAA tournament run. They've beaten every team in the Pac-12 conference and have commanded respect on a national scale. In a recent game against Cal, Oregon had to clawback from a 14-point second half deficit to win on yet another Brooks' late game winner.
"I've worked extremely hard to get to where I am," Brooks says. "I'm not afraid to take the big shots. In fact, I want to hit those clutch shots."
While Brooks has hit two game-winners in recent memory (UCLA and Cal), he's also willing to do whatever it takes to win. Which is something that many college players struggle to grasp.
"If coach needs me to score, I'm going to do that," Brooks says. "If he needs me to rebound and crash the boards, I'm going to do that. If he wants me to stop the opposing star, I'll do that. I'm here to win and I'll do whatever my team needs for that to happen."
Brooks understands his statistics aren't going to jump off the page. But what's refreshing is he doesn't care. In his free time, he watches a lot of film and studies the game at length.
"I watch a lot of Jimmy Butler and Draymond Green," Brooks says. "Not only because I think I have a similar game to them but because I enjoy watching them play. They're both great two-way players and bring a lot of effort every night, that's what I want to be known as. Obviously you watch the greats like Kobe Bryant and Michael Jordan, but Butler and Green are players I really watch and study."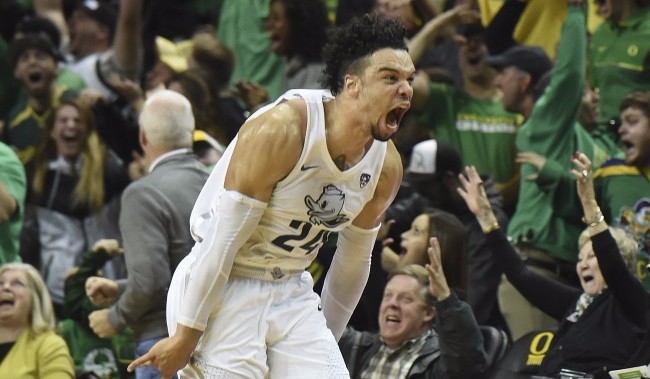 Like Green and Butler, many aren't expecting much from Brooks in the NBA. Sure, he lacks size for a power forward and is not exactly the right build for a small forward. But, he is very comparable to Draymond Green and we've seen what he's been able to accomplish and achieve.
While his team success is mostly given to the system and the team he has around him, Brooks is still a primary reason for the Ducks being in this position. His facilitation, communication, and creative role make it easy for teammates to stretch the floor and get open shots. The 6'7" point forward is an extremely rare prospect for a myriad of reasons. The sheer combination of talent, strength, size, and ability makes it hard to fully embrace if you're a basketball connoisseur.
But there's no denying his skills.
"I'm just having fun with the game," Brooks says. "I love doing the little things, whether it be an outlet pass or setting screens for my teammates. I just love the game, and I try to be as comfortable as I can be. That's why I dance on the court and try to get teammates involved. I just have a lot of passion. This game is about having fun and creating an atmosphere that is comfortable for everyone."
Brooks has still been the subject to controversy over his time at Oregon. Late in the team's Sweet Sixteen win against Duke last year, Brooks fired up a three (that went in). Duke fans took offense to the shot, and Coach K pulled Brooks aside for a private conversation. Conflicting reports (from Krzyzewski himself) came out afterward, and Coach K eventually apologized for the incident.
Via Mike DeCourcy of the Sporting News:
"I spoke with Oregon head coach Dana Altman and apologized to him for my remarks to Dillon Brooks following our game," Krzyzewski said in his statement. "It is not my place to talk to another team's player and doing so took the focus away from the terrific game that Dillon played.

"In the postgame press conference, I reacted incorrectly to a reporter's question about my comment to Dillon. Clearly, the story that night was about Oregon advancing to the Elite Eight, and the outstanding game they played. I sincerely hope I did not create a distraction for Coach Altman and his team at this critical time of year. Certainly, I have the utmost respect for the Oregon program and their tremendous accomplishments."
Most recently against Utah, Brooks had a viral flopping incident, and Brooks addressed that as well.
"I just sit there and laugh at it," Brooks says. "I can never replicate that same flop again and I just think it's funny."
Even if he finds himself constantly in the mix, Brooks' teammates don't see that as a detriment to his ability or anything resembling a red flag.
"Although he's the craziest guy on the court he's also the most passionate I've ever seen play this game," teammate Dylan Ennis told DIME. "His passion makes him the dominant player he is. When you play with him you feel some of the fire he has and it's contagious. Some hate him for it, some love him for it, but at the end of the day he approaches every game like it's his last. Not many can say that."
Brooks is continuing to gain media attention and notoriety for his late game heroics and impressive play. If he keeps this up and leads Oregon deep into the tournament, you can only anticipate his name being called earlier than any of these mock drafts predict.
Dillon Brooks may be positionless, but there should be a position for him somewhere in the league this summer if he decides to declare for the draft.