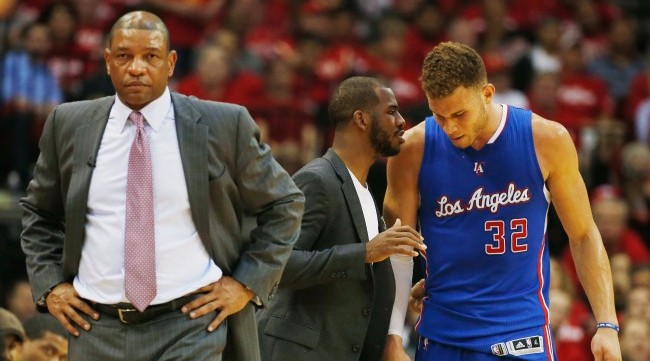 The Los Angeles Clippers have a rich, recent history of 50-win regular seasons and postseason disappointments. They have averaged 55 victories the past four seasons but have been knocked out in the first round twice and the second round twice. After losing Game 1 of their first-round series to the Utah Jazz, the question is being asked:
Should the Clippers break up their core — Chris Paul, Blake Griffin, and J.J. Redick — if another early flameout happens?
That's the question posed to coach Doc Rivers, who joined the Clippers before the 2013-14 season. Paul, Griffin and Redick will all hit the free-agent market this summer — one that should net them lucrative deals now that the NBA is flush with money.
But Rivers told USA Today the Clippers shouldn't tear it down if things go bad again in the playoffs and that paying a steep luxury tax penalty to keep the trio is worth it.

"Here's my argument to (the question of whether all that luxury tax is worth it)," Rivers, who is three years into a five-year deal worth more than $50 million, told USA TODAY Sports recently. "Let's say we don't win this year — which I think we will, (but) let's say we don't. Do you give up on a 50-win team that has proven that they're really close (to winning it all), or do you hang in there and keep trying to maybe make changes around (the core)?

"I always use Utah as a great (example). Thank God Karl Malone and (John) Stockton didn't listen to people, you know what I mean? They fell (in the playoffs), and kept trying and kept trying. And finally, late in their careers, they finally broke through to the Finals. They didn't win it (all). But you know, that's the pursuit. I just think it's so easy to (say), 'Hey, they should break up,' from the outside. And I think that's such an easy opinion."
Let's take a moment and bask in the fact that Rivers' example of a team failing all the time in the playoffs then eventually failing in the Finals is what he's using to keep his current team that fails all the time in the playoffs together. "Look, we're coming up way short now, but if we keep these guys together, someday, with hard work and a few breaks, we can come up short at the end!"
Of course, this is all after the Clippers lost one game in the first round. Maybe they push through to the conference finals. But if they don't, just remember the inspirational story of the Malone/Stockton Jazz teams that also did the same thing but for much longer.