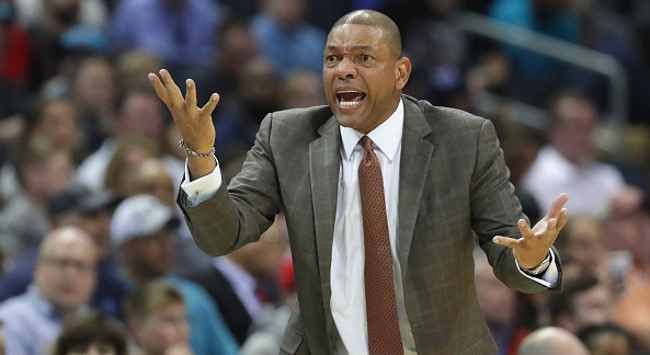 A week ago Saturday, after the Warriors suffered a second consecutive loss in ugly fashion against the Timberwolves, Steve Kerr decided to rest to all of his best players against the Spurs the following night on the second game of their back-to-back. With both Kevin Durant and Kawhi Leonard both already sitting out with injuries, what was supposed to be a prime-time showdown on ABC between the NBA's two best teams turned out to be a glorified D-League game.
Unfortunately for ABC, the network got the short-end of the stick yet again this Saturday when the Cleveland Cavaliers opted to rest LeBron James, Kyrie Irving, and Kevin Love against the Clippers on the front end of their L.A. double dip, prompting this gloriously-indignant tirade from Jeff Van Gundy, who was forced to broadcast the game.
The Clippers ended up blowing out the Cavs, and though Doc Rivers understands the impetus behind resting players to save their legs for the playoffs, he thinks there's at least one simple solution to what's becoming a troubling trend. Via Kevin Arnovitz of ESPN.com:
Rivers recommended the league refrain from scheduling teams playing in marquee nationally broadcast games for two games in as many days.

"I think we have to treat those games like they're afternoon games, and you don't play the night before," Rivers said. "And then you don't play the next night after."
Most would agree that individual coaches and the organizations they represent should have final say over when they decide to rest their stars, but the recent ABC debacles are undeniably a bad look for the league, especially when you consider the fans who pay their hard-earned money and get cheated out of seeing their favorite players.
Rivers' solution is a fairly logical one, and perhaps the elongated schedule that will go into effect next season will help mitigate a lot of these issues.
(Via ESPN.com)