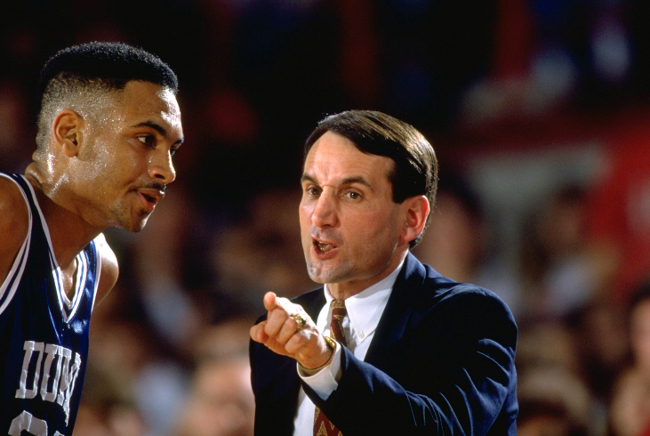 There might not be a more hated team in America than Duke Blue Devils basketball. They seem to have players with every new class who we love to loathe. Duke has given us Christian Laettner, Austin Rivers, Carlos Boozer, J.J. Redick, Bobby Hurley, and Steve Wojciechowski. And Coach K, the one constant in this sea of hate.
All of that has been covered many times, so we wondered, are there any Duke players who we like? There has to be a few, right?
What resulted was this roster of the all-time least hateable Duke basketball players.
STARTING LINEUP
Starting Point Guard: Kyrie Irving. Not only is Kyrie Irving one of the most exciting players in the NBA, he's also barely a Duke player. Irving was on his way to having a legendary freshman year when a toe injury in his ninth game sidelined him for the rest of the regular season. After getting bounced in the Sweet 16, Irving left and went pro. So, he's probably the least Duke-y of Duke players. Not only that, he represents the beginning of Coach K realizing that he had no choice but to start going after one-and-done guys so he could compete. YOU'RE NO BETTER THAN THE REST OF THE WORLD, COACH!
Starting Shooting Guard: Grant Hill. We should really hate Grant Hill. He's silver spoon-fed and seemed to have everything he wanted. He then went to the NBA, and life came at him. Part of the reason why we think fondly of Hill is  because of his body failing him, and it's hard to hate a guy who could have been LeBron, but ended up being a utility player at best. Also, Hill played with Laettner. Anyone looks like less of a jerk when they play with Laettner.
Starting Small Forward: Jabari Parker. Chicago kid. Damn good player. Would-be Rookie of the Year if not for a terrible injury this season. He was the subject of so many "golly, this South Side Chicago kid speaks so well" stories last year that he single-handedly reminded us just how horrible the Duke ecosystem can be. He also had an interesting and totally non-suspicious shoe collection in his Duke dorm room.
Power Forward: Luol Deng. He's maybe the toughest player to ever come out of Duke University. When he was a Bull, he survived a botched spinal tap and became one of the grittiest players in the league. Plus, he was the victim of a racist scandal that got fellow Blue Devil Danny Ferry fired. It sucks what Ferry said, but, eggs gotta get cracked if we're going to enjoy Duke misfortune.