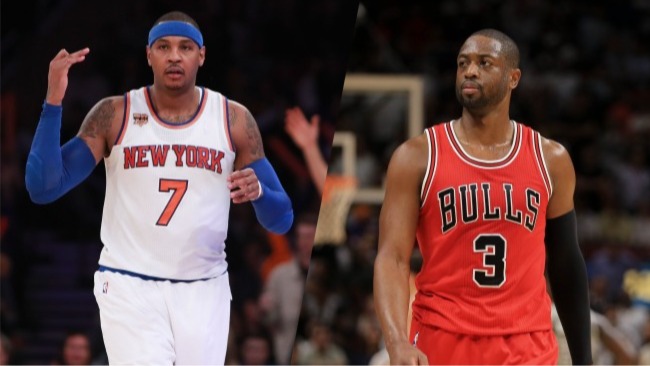 If the New York Knicks really want to star a rebuild, they'll probably need to start getting rid of their older talent sometime soon. Of course, when you talk about trading players on the Knicks, all eyes go to Carmelo Anthony, whose name has been put in (mostly unsubstantiated) trade rumors for a few years.
There have been some rumblings that Melo may waive his no-trade clause before this year's trade deadline – again, we've heard this in the past and it never happens. But this year, Melo has some support from Dwyane Wade, who does not think the nine-time All-Star will ever leave New York if he has things his way.
"He loves it here," Wade told the New York Daily News before the Knicks and the Bulls faced off on Thursday night. "He loves being here. His family loves it here. And he wants to win here. He's going to be here as long as they want him here — win, lose or draw."
Wade and Anthony are tight, so if D-Wade thinks Melo wants to be in New York and wants to stay there for the rest of his career, that's probably the closet thing we'll get to the Knicks' forward saying that himself. Of course, it's always possible that Anthony changes his mind, decides he wants to chase a ring, and goes elsewhere to close out his career. But for now, let's just trust that – as usual – there's nothing to the reports that Melo wants to go anywhere.
(Via New York Daily News)