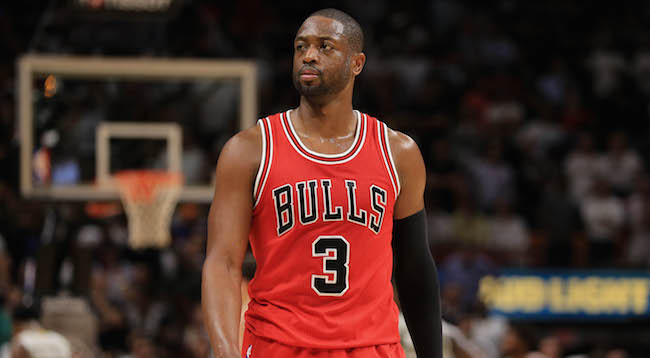 Dwyane Wade's first season with his hometown Bulls has ended early as Chicago announced he suffered a fracture in his right elbow as well as a sprian on Wednesday night.
While the Bulls have struggled this season, Wade was having a solid year in Chicago, averaging 18.6 points, 4.5 rebounds and 3.9 assists per game. Now, Wade's season is over and the Bulls hopes of reaching the playoffs have taken a significant blow.
Chicago was already in a recent freefall, losing seven of their last 10 games to fall a game out of the eighth seed in the Eastern Conference. Now, the Bulls will have to try and battle ahead of the Heat and Pistons — currently tied for the eighth spot a game ahead of Chicago in 10th — without their second-leading scorer.
That's a significant problem for an offense that has been the worst in the NBA over the past few weeks. The Bulls are 24th in the NBA in offensive rating (103.8) for the season, but since the start of March they have been the worst offensive team in the NBA by a large margin, with a 95.7 offensive rating (the next worst are the Lakers at 100.6).
The Bulls season has featured plenty of drama, with Wade, Butler and Rajon Rondo clashing earlier in the year, but it's been on-court issues and the lack of offensive firepower that has doomed Chicago of late.