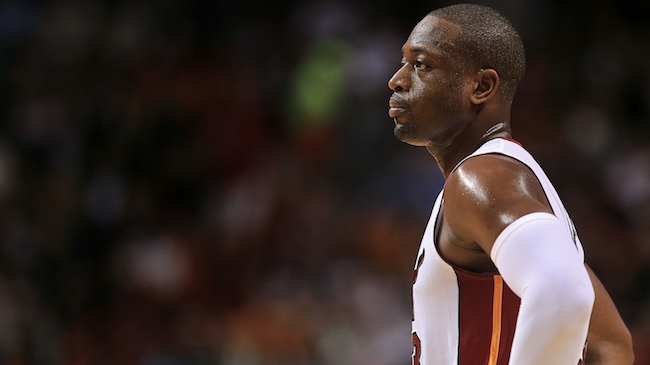 Perhaps there's fire to the annual smoke of Dwyane Wade potentially leaving the Miami Heat after all.
According to ESPN's Brian Windhorst, the future Hall of Famer has discussed contracts with the New York Knicks and Milwaukee Bucks less than 24 hours after free agency began. Maybe more troubling for Miami? Wade might schedule meetings with his new suitors, too.
The possibility of the three-time champion leaving the only team he's ever played for was raised earlier this week when it became apparent Pat Riley and company were more concerned with re-signing Hassan Whiteside and pitching Kevin Durant than negotiating a market-value deal with Wade. Not that you can fault the Heat, by the way; the 2015-16 season made clear that they won't legitimately contend for a title without making a major splash in free agency this summer.
Nevertheless, Wade apparently feels as if his immense contributions to the organization should loom larger in contract talks than his potential impact going forward. The Los Angeles Lakers acquiesced to a similar line of thinking by Kobe Bryant a few years ago, and it certainly bears mentioning that Wade has taken a pay cut on multiple occasions in the past to afford Miami additional financial flexibility.

The 34-year-old is entitled to that opinion. He's a living legend. But it ignores an unfortunately reality, too, one that ensures the Heat couldn't give Wade even half of his max-level deal if the team's obvious hopes of signing Durant come to fruition.
After Whiteside signed a max-level deal to remain in South Beach for the foreseeable future on Friday morning, Gabrielle Union, Wade's wife, posted a cryptic tweet suggesting her husband hadn't heard from Miami since the player-movement period began at the stroke of midnight July 1.
Will Wade actually leave Miami? That still seems an unlikely scenario. Considering his ties to Milwaukee as an alum of Marquette University and friendship with New York's Carmelo Anthony, though, it might be time for Riley to pick up the phone. Even if Wade's threats aren't serious, they might become so soon.