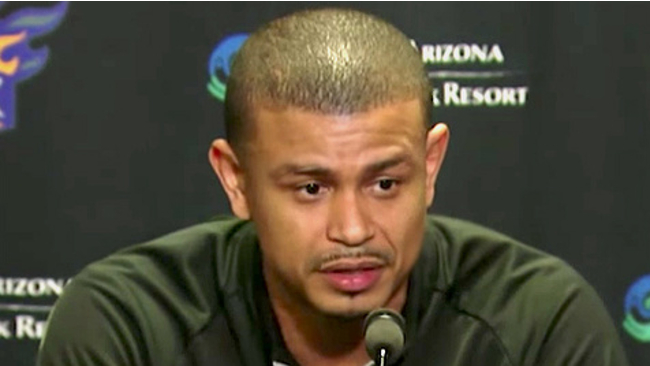 It's been an unequivocally bad start to the 2017-2018 season for the Phoenix Suns. They dropped their home opener to the Portland Trail Blazers by a historically embarrassing margin, then sustained a 42-point beat-down by the Clippers on Saturday night to finish opening week at 0-3.
During that latest loss, rookie Josh Jackson made a finger-gun gesture at the crowd and hurtled an expletive, which will likely result in a considerable fine. Point guard Eric Bledsoe, who's been the subject of trade rumors almost since he arrived in Phoenix, has obviously had enough, and on Sunday sent out a not-so-cryptic tweet that he's ready to get the hell out of dodge.
It's not clear whether the Suns are ready to oblige Bledsoe, but what is clear is that embattled head coach Earl Watson has been given the old administrative boot just three games into the season after a meeting with owner Robert Sarver on Sunday on the heels of Bledsoe's disgruntled tweet.
Watson entered the season on the proverbial hot seat, but this will certainly go down as one of the fastest firings in league history. Woj followed that up with news that assistant Jay Triano will likely serve as head coach an interim capacity until they settle on a permanent replacement.
So look out, Knicks. The Suns are hot on your heels for the most dysfunctional organization in the NBA.

UPDATE: The Suns have a replacement for Earl Watson. Former Raptors head coach Jay Triano will assume the role of interim head coach.
Triano coached Toronto from 2008-11 and went 87-142, missing the playoffs all three years that he was at the helm north of the border. He became an assistant coach for the Suns in 2016, and has been the head coach of the Canadian national team since 2012.