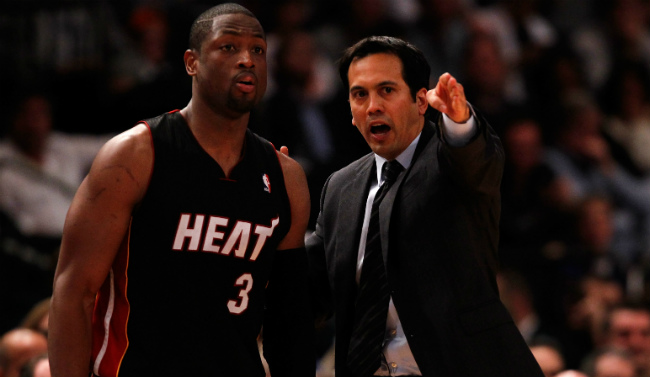 Dwyane Wade will take on the Miami Heat for the first time as a member of the Cleveland Cavaliers this week. Miami travels to Cleveland for a game on Tuesday night in a game between two teams with postseason aspirations in the Eastern Conference.
Like every game that Wade plays against the Heat, it will be kind of weird to watch. Wade was that franchise for the longest time, and watching him go up against them instead of leading them is something that will never seem normal. Watching him against the other 28 teams in the league is fine, but there's just something about when he plays against Miami.
This sentiment is shared by Heat coach Erik Spoelstra, who met with the media on Monday and shared his feelings on Wade in Cleveland. You won't be stunned to hear this, but he's never going to get used to seeing Wade in navy, wine, and gold.

Via The Sun-Sentinel:
"This is like the Twilight Zone," Heat coach Erik Spoelstra said. "Every time he's in a new uniform you're like, 'OK, but not that team.'

"It will never seem right. For me, I hate it. But I'm happy for Dwyane. I'm happy for his family. I think he's in a good spot."

A spot he found himself in only 10 times during his 855-game, 13-season Heat career — as a reserve.

"I think the role that he's in is going to be one of the most impactful roles in the league," Spoelstra said.
Wade is still getting settled into his role off the bench in Cleveland, which is understandable as it's something new for him. Whether he gets used to that role or not, one thing is clear: It will always be kind of strange watching him play against the Heat, especially when he's on the Cavaliers.