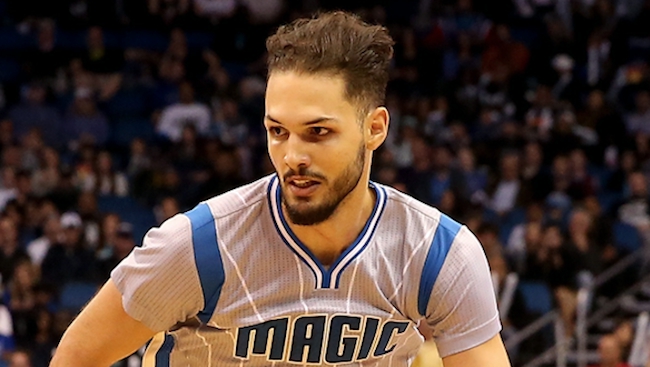 France was expected to field a men's national basketball team at the recent Rio Olympics capable of perhaps putting some heat on the United States. While the U.S. team did get some pressure en route to their gold, it wasn't from France, who didn't even make it into a medal game. One is left to wonder what might have been had Orlando's new $85 million signee, Evan Fournier, been included on France's roster. Despite having a good season, he wasn't, and he's not happy about it.
Fournier was interviewed by the French magazine L'Equipe, and he had this to say about his experience being shut out by the French team (as transcribed by Pro Basketball Talk)
"I hated not being in the Olympic Games. I had suspected that I won't make the cut a week before I was informed about it. I was reading interviews where only Rudy (Gobert) was mentioned among the players who didn't play in the OQT (Olympic Qualifying Tournament) but would go to Rio. In the end, I received a voicemail by Vincent Collet that briefly explained the reasons I was left out."
As for his future with his national team, Fournier doesn't sound optimistic, saying, "I never closed the door to the French national team but these events sent me a clear message. That I'm not in the project. It's that simple and it hurts."
Not knowing the inner machinations of the French national team, this does seem strange. Fournier definitely possesses more talent and upside than some of the guys who made the team, and at 23 he seems like he would be a part of their future for several years. But there are all sorts of reasons a player is left off a team, so it's unfair to just call it a poor decision.
Perhaps this Olympics snub could benefit Fournier and the Orlando Magic this season. In addition to not having to deal with the wear and tear of the Olympics, Fournier might be fueled by this slight to try and take his game to a whole new level. Plus, Victor Oladipo isn't around anymore, having been traded to the Thunder on draft night for Serge Ibaka. That could open up more minutes and opportunities for Fournier. This could be a big year for him and France might come to really regret their decision about Rio.
(Via Pro Basketball Talk, h/t EuroHoops.net)