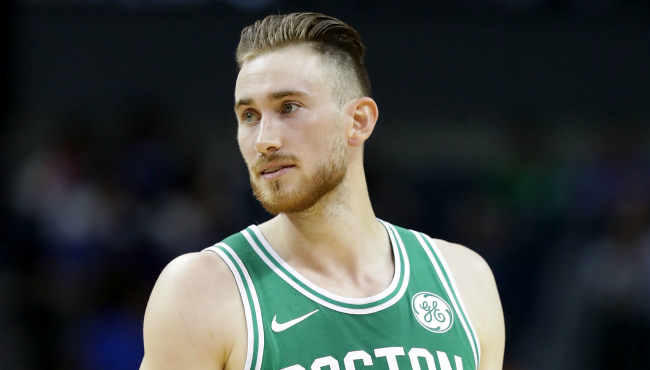 The Boston Celtics have been surprisingly great through the first third of the season, compiling a 26-8 record despite being without the services of their star free agent signing Gordon Hayward after losing him for what most initially assumed would be the season.
Hayward suffered one of the nastiest looking injuries ever seen on an NBA court when he dislocated his ankle and fractured his tibia in Cleveland, leaving his foot pointed sideways and everyone in the arena and watching on TV in shock. Hayward was clearly in significant pain and was taken back to the locker room and eventually flown back to Boston for surgery.
Two months later, Hayward is out of his walking boot and continuing rehab in an effort to get back to full strength. Hayward has said he'd love to get back this season, but, wisely, won't put a timetable on his recovery. In a recent interview with The Dan Patrick Show, Hayward explained that while he won't put a timetable on a return to the floor, the competitor in him is pushing to get back to the court as soon as possible, and doesn't want to rule anything out.

"I something that I work at every day to try to increase my range of motion and increase my strength in my legs so that I can be back as fast as I can," Hayward said. "Whether that's this year. Whether that's this summer. Whether that's next year, I kinda will just let that happen. But for sure, as a competitor, I'm trying to come back faster than anyone else has done it. It's just, one of those things where you don't want to push it and hurt something else because you've been out so long. They keep me sticking to a pretty strict protocol, so that's what I do."
It's an encouraging quote from Hayward, who is making incremental progress and, like Celtics fans, can't help but think about coming back to the team this season to help them with a playoff run. That said, the sentence after the "faster than anyone else" part notes that the doctors, therapists, and trainers are ensuring he's not pushing himself too far and will be keeping that competitive fire to return in check until his body is ready to handle it.
While Boston would love to have Hayward back, this team is built in the hopes of being a title contender over the next three to four years and they will not rush him back and put the bigger picture in jeopardy to go after this season. If Hayward does make it back it would be one of the best stories of the season, but with the way he talks about how strict they are in handling his rehab, you can bet he'll have to be at full strength before they allow him to hit an NBA floor again.