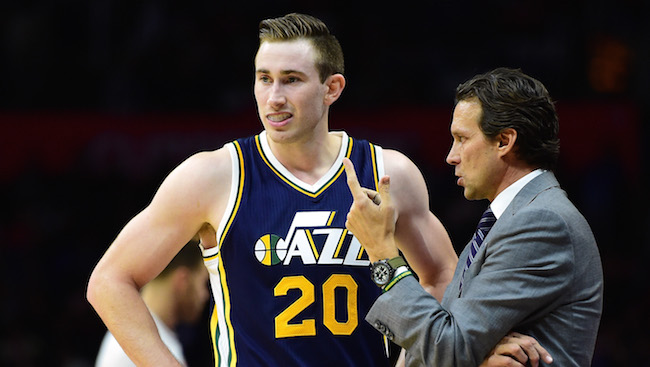 Gordon Hayward held his final free agency meeting on Monday as he listened to the pitch from the Jazz as to why he should stay in Utah. Hayward met with the Jazz in San Diego, and the Utah contingent rolled deep into California to try and convince their star why he should stay.
According to ESPN's Ramona Shelburne, the Jazz brought a party of seven to the San Diego meeting, including Hayward's good friend Joe Ingles (recently re-signed), star big man Rudy Gobert, and their newest acquisition, point guard Ricky Rubio.

Rubio joining Utah's pitch is interesting, considering he doesn't have a standing working relationship with Hayward, but he was at the meeting for good reason. Per Shelburne, Rubio has been someone Hayward has stated to the Jazz he wanted to play with, so in making the trade prior to free agency and landing the Spanish point guard, the Jazz are making a statement to Hayward that they want to do whatever possible to make and keep him happy in Utah. p
The Jazz are hoping that having the final word with Hayward in San Diego — who could make his decision as early as Monday night or Tuesday — will pay off. Hayward's trips to Miami and Boston included plenty of fanfare, but the Jazz are hoping that bringing Hayward's old and possibly new friends from the squad will be enough to keep him from bolting East.