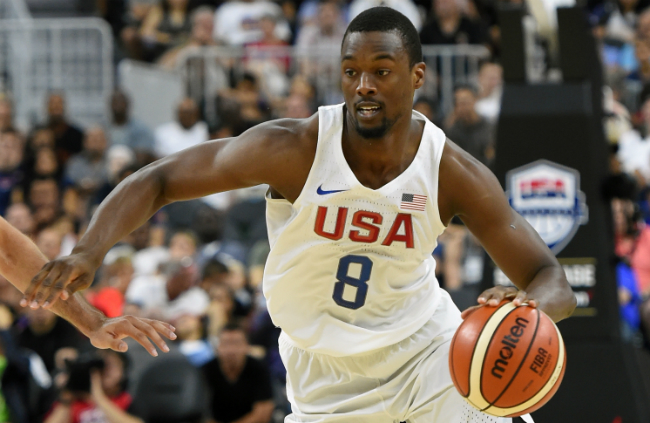 Harrison Barnes hasn't had a second to slow down, and that's maybe not such a bad thing. The newly-inked Dallas Mavericks forward bounced right from free agency into training for the Olympics, and he hasn't had time to reflect on his departure from the Golden State Warriors, or the team's collapse in the NBA Finals, or his struggles in Games 6 and 7.
Sometimes staying busy is its own form of healing, and if that's the case, Barnes has to be healing at an astronomical rate.
While the Warriors were courting Kevin Durant, Barnes found a new home in Dallas. He signed a four-year, $95 million deal to play with Dirk Nowitzki and to prove he can provide a star scoring punch on his own, rather than just be a key component of a balanced team filled with talent.
Playing in the Olympics should help. Barnes is already comfortable sharing the basketball, and there are plenty of familiar faces on that team playing with him. Spending time with guys like Carmelo Anthony, Jimmy Butler, Paul George, and yes, even Durant will push Barnes and teach him some new tricks, and it's hard not to be around Coach K for any stretch without picking something up.
Barnes took a break from training as part of his partnership with Fitbit Blaze before USA Basketball's exhibition against Argentina on Friday to catch us up on his summer, what it's like playing for Coach K, the move to the Mavs, just how hard it was to lose those Finals, and whether he'll find time to relax anytime soon.
Martin Rickman: There's not a lot of time off for guys who go straight from the playoffs – especially the Finals – into the Olympics. How's training going for you? Is that lack of time off a good thing?
Harrison Barnes: Right after the season, I kept doing my weight-room regimen because I wanted to stay in shape. I was able to monitor my whole workout on the treadmill with my Fitbit, and keep an eye on what I was doing and what I was working on. It was also therapeutic in a sense to do that after the tough loss in the Finals. It gave me something else to focus on.
Is there a difference in how you guys are preparing? Obviously the coaching staff is a big change, when you have Coach K rather than Steve Kerr, but what's that like relative to your in-season training?
In the summer, you have to be in shape, but you are also trying to build. So this isn't the same type of workout I'd be doing in September. I'm trying to do longer cardio workouts, and keep my heart rate above 130, which I can check on my Fitbit really simply. In the season, there's hard intervals. I'm doing a bunch more weight-room work, and I'm playing a lot more. The games in USA Basketball are different. You're playing for short bursts. So you're playing for 18 minutes, instead of 35 minutes.
Have you found that you're noticing your overall cardio has been up vs. previous summers?
I've been definitely trying to maintain my cardio shape this summer because when that leaves, that's one of the hardest things to get back up heading into the season. So that's one of those things I'm really trying to keep constant.
Are there any takeaways you've found from your time with Team USA so far?
In the little bit of time I've had with the guys, the biggest thing I've taken away is the attention to detail. Each of these guys are so maniacal about the details, and that's been huge for me to see and learn from. There's so much talent at each position. It's ridiculous. And I came from a great team, an amazing team. But you've got a knockdown shooter. You can score from anywhere in the vicinity of the paint. If there's a rebound, we have multiple guys who can go get it. And almost everyone can play everywhere on the floor. It's really incredible just to be out here.
You haven't had any time to process this summer. In a lot of ways, that's probably a good thing, I'd think. 
[Laughs.] The day I get a chance to sit down and reflect on everything is going to be a very long and relaxing day. I've just been blessed to be in the situation I'm in, and I think I'm just trying to live in the moment. That's the biggest thing for me is trying to embrace playing for my country. You look at the wall of everyone who's been able to do that, and it's unbelievable to represent the USA and try and compete for a gold medal.
How hard were those last couple games of the Finals for you, and how great of an opportunity is it to have another chance to show off what you can do and play your game in front of the whole world?
It was very tough. Being eliminated from the Finals up 3-1, and not shooting that well. The Olympic experience has been really great overall to get my mind off things. Now I'm working for something much bigger than me. It's something I was really looking forward to, and the training has been paramount for that. The daily grind of being in the gym and the weight room, and being with the guys.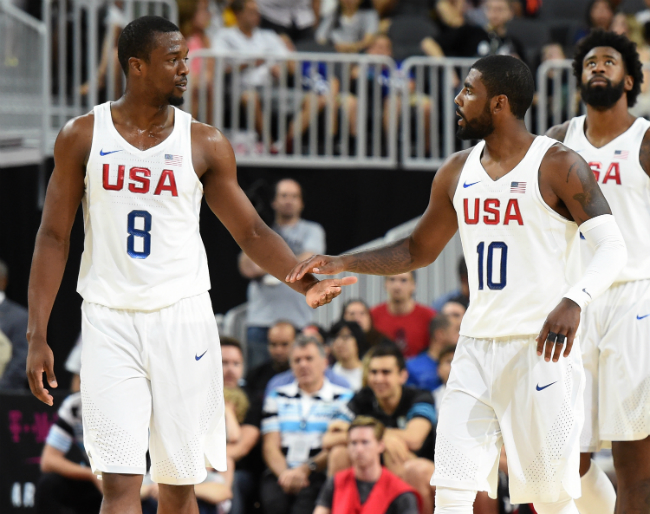 I remember Duke was in the running for awhile for you before you went with UNC. How surreal is it after spending so much time in Chapel Hill to have Coach K be coaching you?
It's a little crazy to see how everything comes around full circle. He was recruiting me a long time ago, and I remember him showing me highlights of the Olympic team. To be here eight years later is nuts. Not only for how far I've come, but how much I still need to go. Coach K has talked about that, about how in '08 it was such a great experience to win that gold medal, and now we're here trying to get another one.
With how far you've come, and how far you can still go, you've got a chance in Dallas to step out from the shadow of that great team in Golden State. Was that part of the allure? 
I'm extremely excited about the opportunity to play for Dallas just because they're a great organization, and they'll do whatever it takes to win. Coach Carlisle has won a championship and Dirk is a Hall of Famer. I just look forward to learning as much as I can from him – how to be a consummate professional, a teammate, and an ambassador for the game. I'm going to find guys who will push me in practice every single day, and I hope that I'll do the same for them.
What do you think will be the biggest difference coaching-wise between Steve Kerr and Rick Carlisle for you?
That's yet to be seen. I've only spent a little time with Coach Carlisle, but both he and Coach Kerr are sticklers about the details. That's one thing I've really noticed, but all the great coaches focus on the little things.
Have you noticed that you're in better shape this summer, and do you think it's going to help you next season to have played in these games?
I feel like at this point in the summer, it's late July and I'm still in game shape. I have no doubt that's really going to help me a lot.
Who's the jokester on Team USA?
It's a tossup between DeMarcus Cousins and Kyle Lowry. Both those guys. They're always getting jokes in.