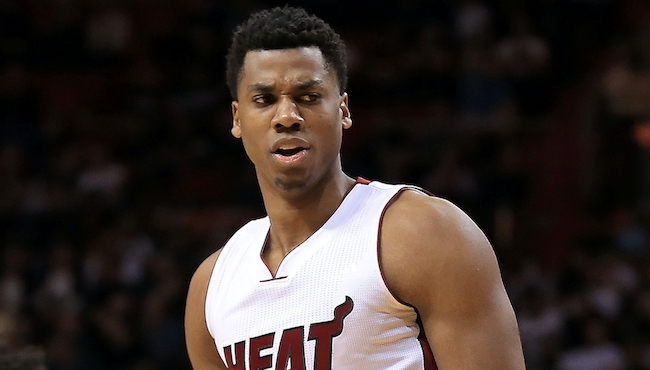 The Miami Heat host the Golden State Warriors on Wednesday night. But what seems on the surface like any other chance for the dominant defending champions to make easy work of an inferior foe also contains some very intriguing subtext.
Over the summer, Draymond Green and Hassan Whiteside traded barbs on Twitter over the effectiveness of small ball. Miami hulking seven-footer made a general social media appeal about the limits of that strategy, prompting Golden State's ultra-effective downsized center to respond. A brief yet pointed war of words ensued, sparking anticipation for the pair to face-off in 2015-16.
Here's the since-deleted exchange in full, courtesy of The Big Lead.
The Heat and Warriors first met on January 12 in Oakland, a hotly-contested game ultimately won by the defending champions. Green stuffed the stat sheet per his new normal, posting 22 points, 12 rebounds, and six assists in 36 typically impactful minutes. Whiteside's knee tendonitis kept him on the sideline, though, robbing the basketball world of the opportunity to watch him finally butt heads with Green in person.
But that won't prove the case on Wednesday night. Both loud-mouthed big men will be active tomorrow, and are also likely to see a fair amount of time guarding one another due to the unfortunate absences of Chris Bosh and Festus Ezeli, respectively.
When asked about the prospect of finally meeting Green on the floor, Whiteside didn't let his notorious temper get the best of him. On the other hand, he didn't quite downplay significance of the matchup, either.
Facts: Whiteside was in the D-League before breaking out with Miami last season, and Green indeed makes far more money than he does. Another fact: Neither player will care about that if the Heat beat the Warriors at American Airlines Arena.
Have plans tomorrow night? Whatever they are, we highly recommend cancelling. Whiteside and Green could be must-see TV.
Now Watch: Gregg Popovich And Tim Duncan Couldn't Stop Laughing As A Mavs Rookie Taunted The Spurs