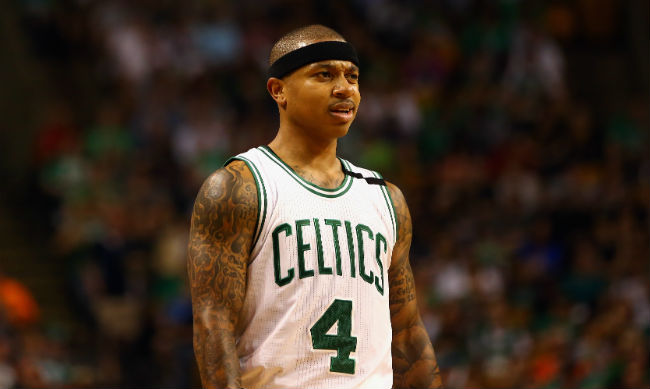 Isaiah Thomas has nothing but love for Boston, but the same can't be said for the general manager of the basketball team that calls Boston home.
Thomas said he might never speak to Celtics GM Danny Ainge again after he was traded to the Cavaliers over the summer in a deal that (eventually) brought Kyrie Irving to Boston.
Sports Illustrated has a Lee Jenkins feature about Thomas that went live on Wednesday and it had a number of interesting notes in it, namely that his relationship with the Celtics general manager will never be the same after his abrupt trade to Cleveland.
Thomas himself had written about how he got the news of the deal for The Players' Tribune, saying "that sh*t hurt." But when asked again about his relationship with Ainge and the Celtics, it sounds like those two things are very different indeed.
When Sacramento let Thomas walk in 2014, he left town telling himself, "F— Sacramento. I'm about to kill those dudes." When Phoenix exiled him the following winter, he pledged, "O.K., now they're gonna get it." But there will be no revenge tour this time. "Boston is going to be all love," he vows, with one exception. "I might not ever talk to Danny again. That might not happen. I'll talk to everybody else. But what he did, knowing everything I went through, you don't do that, bro. That's not right. I'm not saying eff you. But every team in this situation comes out a year or two later and says, 'We made a mistake.' That's what they'll say, too."
Thomas still says conference rivals swapping starting point guards still doesn't make sense to him.
"None of it made any sense," Thomas said. "It still doesn't make any sense. I'm still asking, 'What the hell happened?' It's a trade you make in NBA2K. It's not a trade you make in real life."
His anger and resentment is about much more than an unorthodox trade, though. Thomas played through pain after his hip injury, which he suffered months earlier. And he also played after the death of his sister. Irving isn't speaking about his struggles with other teams, he's speaking about what he want through with the Celtics. Clearly, he thinks Ainge treated him poorly here.
His revenge, if there is any to exact, will be with the Celtics's general manager. Problem is, if he looks for revenge on the court he'll be taking it out on Boston, too.