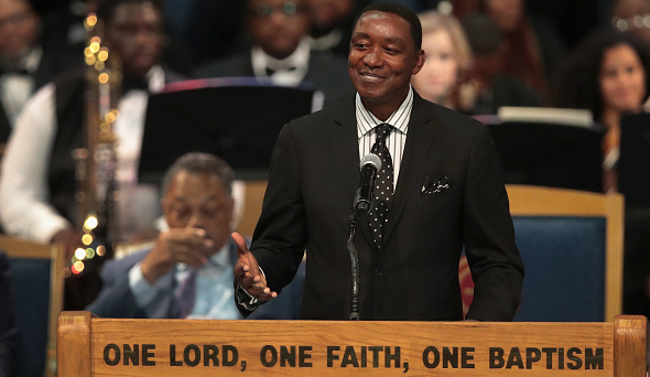 NBA legend Isiah Thomas originally hails from Chicago, but he made his name in the city of Detroit where he played his entire Hall of Fame career, winning back to back titles and leaving an indelible legacy as the leader of the Bad Boy Pistons that wreaked havoc on the league throughout the mid-to-late 80s.
On Friday, Thomas paid tribute to another Motown legend, the Queen of Soul herself, Aretha Franklin, who passed away earlier this month after a battle with pancreatic cancer. Scores of athletes and celebrities attended the memorial service at Greater Grace Temple in Detroit, where Thomas and other friends and loved ones delivered eulogies honoring Franklin and her impact on their lives.
Thomas first met Franklin when he arrived in Detroit as a precocious, yet naive, 20-year-old rookie, saying that she immediately took him under her wing and has acted as mentor ever since.
"She loved the Detroit pistons and I know I was her favorite Bad Boy," Thomas said.

"I'm gonna miss you Aretha. I'm gonna miss our phone calls. I'm gonna miss your words of wisdom and advice. The world is gonna miss you. I want you to know I love you, the world loves you, and most importantly, Aretha, Detroit loves you."
Thomas couldn't help but get choked up when reminiscing about what Franklin's friendship meant to him, and particularly to his mother, who would sit alongside Franklin in the stands during Pistons games.
The memorial service also featured eulogies from Al Sharpton, Jesse Jackson, and former President Bill Clinton, along with a musical tribute by Stevie Wonder. Franklin was the first woman to be inducted in the Rock & Roll Hall of Fame and was an 18-time Grammy winner.