In his hometown of Seattle, Jamal Crawford is something of a folk hero. And there's a good reason for that. Not only is he one of the most exciting players in the NBA, he's also a pillar of his community. Last year in this space, we chronicled the birth and evolution of the Seattle Pro-Am, and how Crawford has worked tirelessly to bring basketball back to a city that was left reeling after the Sonics skipped town for Oklahoma City amid a nasty legal imbroglio over funding for a new arena (an eerily similar situation Milwaukee Bucks fans found themselves in this summer).
This weekend, DIME made our second trip to the Pro-Am and had chance to sit down with the two-time NBA Sixth Man of the Year for a wide-ranging conversation that spanned the DeAndre Jordan free-agency extravaganza, that epic first-round series against the Spurs this spring, trade rumors, when (if ever) he might retire, and much more.
*** *** ***
Dime: Can you talk a little bit about that first-round series against the Spurs? Was that by far the best playoff series you've ever been a part of?
Jamal Crawford: Yeah, for sure. I think the Spurs are the best team I've ever played against, in all my years in the NBA. So disciplined. You make a mistake, they're gonna make you pay. And they force you into mistakes, as well. They're well-coached, obviously. Pop is the best. They keep everybody on guard. Your man may not shoot for two quarters, and then they run a play for him out of a timeout.
Pop is kinda notorious for that. I remember covering them against the Blazers in the postseason last year, and during the first half, everyone in the rotation had scored except for Danny Green. Then the very first play they run at the start of the third quarter was for Danny Green. You can tell that's by design.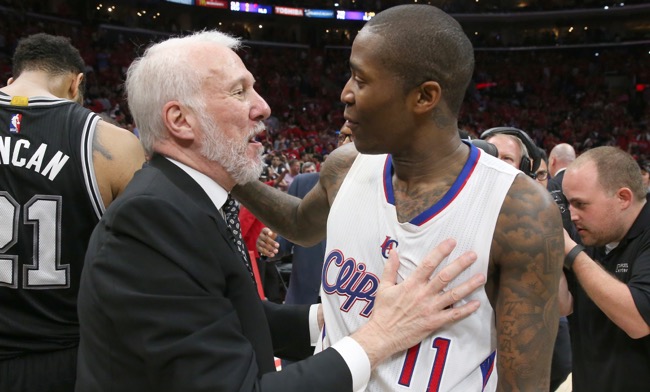 Moving onto to Chris Paul's series-winning shot in Game 7, you could tell that like the whole world knew they were watching the defining moment of his career. It was pretty emotional, obviously for Chris, but even the Spurs, as well. There's that great photo of Tim Duncan embracing him after the game. What was it like being a part of that, as his teammate and his friend?
JC: That game was just unbelievable. It really was. I remember the Mayweather-Pacquiao fight was that night, too. But [Game 7] was like the real heavyweight fight that everybody was looking forward to. We all watched the fight, as well. That was like a great preview to the fight. That was probably the funnest game I've ever played in.
Speaking of the Spurs, they landed LaMarcus Aldridge this summer free agency.
JC: Yeah, one of my best friends.
Having been his teammate in Portland, and having played against the Spurs in such a long, intensive series, how do you think he fits in with them?
JC: I think he fits perfect, actually. The way he plays. The way he pick-and-pops. The way he can space the floor. He can plug into any system. You know, LaMarcus is an unselfish guy. He'll have no problem fitting in with Kawhi [Leonard], and Tim [Duncan], and Tony [Parker], and Manu [Ginobili] and those guys. Danny Green. All those guys down there. So, I think it's a perfect fit as Tim transitions into later in his career. I think LaMarcus is a great replacement, a great guy to kinda pass the torch to.
Does this make them the instant title favorites next season?
JC: For sure. They're automatic contenders without LaMarcus. It's gonna be scary.
In terms of the Clippers' offseason acquisitions… bringing in Lance Stephenson and Josh Smith, who you also played with in Atlanta, talk a little bit about Lance. He obviously had a rocky season in Charlotte. You guys play the same position. Are you looking to play sort of the veteran, elder statesmen role and help him get back on track, maybe find a certain level of maturity that's been lacking?
JC: He's a talent, and he's been talented pretty much his whole life. And sometimes, the thing that's funny about the NBA is systems. It's just being in the right system, and being the right fit at the right time. You know, last year obviously wasn't his best year, but he had some really good years in Indiana. So, I think if we can make him feel comfortable, getting him playing to his strengths, I think it'll make the transition a lot easier.
What about Josh? He's gone through some similarly rocky times, particularly in Detroit, which was a tenure that ended with management essentially just paying him to go away. He certainly rehabilitated his image in Houston during the second half of last season, but now he's sort of found himself in this role where he's playing for significantly less money and more or less lucky to still be in the league. Is he capable of returning to that All-Star level form in Atlanta at this point? How can the Clippers maximize what he still has to offer?
JC: He's one of the all-around guys who can do everything. He can pass. He can shoot. He can rebound. He blocks shots. He's one of the underrated talents as far as all-around players.
You were the subject of certain trade rumors during free agency, and you mentioned during a Twitter Q&A with fans recently that you "wish" you were a free agent. It seems to me there were a couple of ways to interpret that. A) there was so much money being thrown around it would've been nice to reap the benefits of that, whether that meant re-signing with the Clippers or elsewhere. B) You were ready to move on from the Clippers, perhaps in light of their offseason acquisitions and maybe other factors. Which was it?
JC: It wasn't so much the additions that made that comment come out of me. It was the fact that I do wish I was a free agent. If I was, with the contracts they way they're going, and the fact that you can control your own destiny. If I'm a free agent, I don't have to answer the questions "what about Cleveland, what about Miami, what about wherever," because I'm not in a position to pick those places right now. I'm under contract, so that's where it came from.
Speaking of that TV money that'll start rolling in, will that have any bearing on how much longer you'll decide to play?
JC: No. I love the game. I think I've been really good to the game, and the game's been unbelievable to me. You know, you wanna play. I play every single day of my life. So, I just love the game. The TV deal has nothing to do with how long I'll play. It's basically health, and that's it.
Well, how about that? How many more years do you envision yourself playing? Because you seem like someone who takes care of yourself and stays in phenomenally good shape, even just watching you out here with a lot of these younger guys. They have a tough time keeping up with you.
JC: Yeah, I don't wanna put a cap on it. I really don't.
You know, it's funny. We were just talking about Tim Duncan, who at 39-40 years old, is a testament to how long you can keep playing if you pay attention to your health and do the right things.
JC: I think the way I play and style of play is beneficial to me. I think living a clean life as far as no drinking, no smoking, no partying, I think that definitely helps. And then I think just being in love with basketball. I still love basketball like I did when I was 5, 10 years old. So, I think those things have kept me in pretty good shape.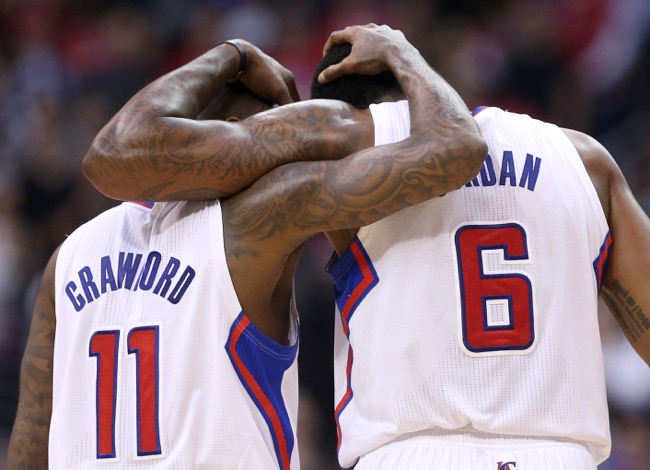 You've already said the whole DeAndre-CP3 beef was blown out of proportion, but can you talk a little about his free-agency debacle just from your perspective.
JC: That was crazy. I've never seen anything like it.
You and I are about the same age, and it just seems strange seeing things like that play out in social media these days with the younger generation of guys. You seemed less than amused by all this at times. 
JC: It is. You know, the world's a lot smaller now with everything. Players can have their own press conferences now if they want, just by the click of a few buttons. So, it's definitely different. It became kind of a fiasco a little bit. With all the "emojilies" [he butchers this word hilariously], is that how you say it?
[Laughter] "Emojis."
JC: Emojis. I guess that was entertaining, but it was crazy just to know that he was leaving, and then coming back.
Bottom line: Happy to have him back?
JC: Of course, DeAndre's one of my best friends on the team.
What do you think about the Players' Choice Awards? It seems like the relationship between certain players and the media grew increasingly contentious at times this season. One example was Kevin Durant's comments during All-Star weekend about the players knowing better about who deserves the awards than the media, which was essentially the catalyst for the Players' Choice Awards. What do you think about that?
JC: We're the only ones who don't really have a voice, as far as that goes. You know, the writers can vote on Sixth Man, MVP, coaches can vote for the reserves of the All-Star Game, fans can vote for starters, so it's like the players don't have a choice. I think it's pretty cool.
So, it looks like Terrence Jones has launched the first annual Portland Pro-Am this summer. Did you help him get that started?
JC: Not necessarily like directly. But he asked a lot of questions and things to do, so I think I helped just as far as try to give him feedback as far as how we started it and how things were. So I would say I helped in that sense, but they're doing all the day-to-day stuff for sure.
Are you gonna make an appearance?
JC: I think that would be fun. I hope we can schedule a game this summer to play with them because he's been great coming down here for us, so we definitely wanna support him.
When you do retire…
JC: One day. Ten years.
What's next for you? Coaching? Broadcasting? Something completely different?
JC: It'll be around basketball. I'm not sure. I don't think I wanna be coaching at this level. I think I'd rather be in the front office. I can watch basketball all day. I know talent and putting teams together. I think that'd be fun for me.