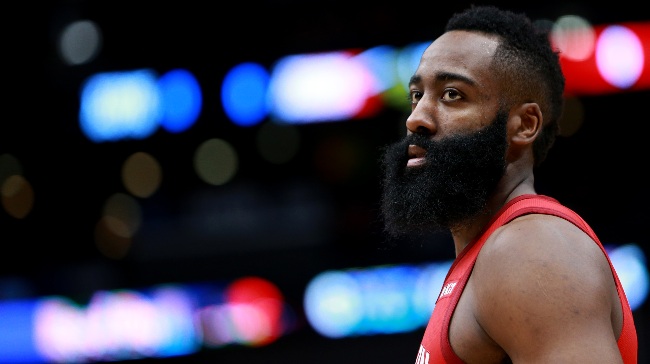 Rockets guard James Harden is in the midst of yet another MVP-worthy season. After a rocky start, he has Houston poised for a deep playoff run and once again looking like one of the few NBA teams equipped to challenge the Warriors' reign in the Western Conference.
The Rockets have won eight out of their last 10 and currently sit in the No. 3 spot, 4.5 games behind the Denver Nuggets, who are in a dead-heat with the Warriors. Regardless of how that positional jockeying plays out, it's likely the Rockets will secure home-court advantage through the first round, though they'd ideally prefer the No. 2 spot and not have to face the Warriors until the conference finals.
However things pan out in the NBA this spring, it appears Harden wants to make his return to USA Basketball next fall for the FIBA World Cup in China later this year.
Via Jonathan Feigen of The Houston Chronicle:
"Of course I want to play," Harden said. "It's an opportunity to represent your country, go out there and play basketball. It's something I love doing. If that opportunity presents itself, I'll be in. Not everyone gets that opportunity. As a basketball player, that's one of the highest points you can get for basketball.

"Obviously, you have the NBA and you have winning a championship and all that good stuff playing for your respective cities. Where you're from, you're playing for an entire country, the country you represent. It's pretty awesome to be a part of it."
Harden last played for Team USA in the 2014 FIBA Basketball World Cup and the 2012 Olympic team, both gold medalists, but skipped the 2016 Olympics in Brazil. He is one of 36 players named to the men's national team roster, which also includes teammates Eric Gordon and Chris Paul. Training camp kicks off in Las Vegas in early August.
(Via The Houston Chronicle)