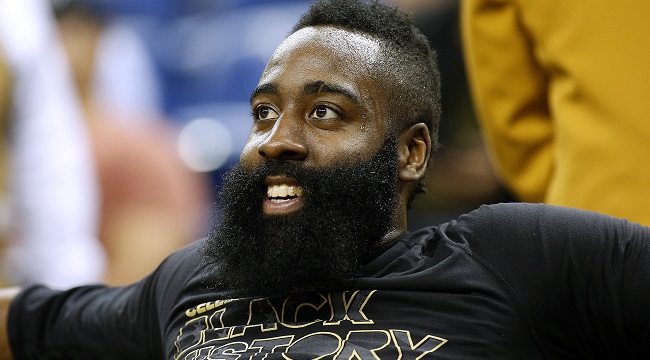 It has been a (very) big summer for James Harden. The Houston Rockets guard signed the most lucrative contract extension in NBA history and even landed the role as the cover athlete for NBA Live '18. While his team's exit and his individual performance from the 2017 NBA Playoffs were not exactly ideal, Harden put together an MVP-caliber season and engineered a fantastic bounce-back from a perception standpoint.
Now, Harden is even being credited for being the lead recruiter when it came to Houston's ability to land Chris Paul via trade before the All-NBA point guard could even hit the free agency market. Rockets GM Daryl Morey expounded on Harden's ability as a recruiter in speaking to Adrian Wojnarowski of ESPN in podcast form.

"There's no coaching there. He's not naturally an extroverted guy. He's a worker, a quiet guy who just wants to win. His first job if he wasn't doing this wouldn't be like the lead sales guy somewhere. He'd probably be the strategic guy because he's so smart.

"With that said, one-on-one he's so good with people. Obviously the great guys are all together. Whether it be USA Basketball or weddings or whatever it is. They get together and they talk. And one-on-one I can say James is an unbelievable recruiter because he's smart. He understands the plan. He wants to execute for the team he's leading. It makes my job easy, frankly, to have him."
There have already been rumblings that Harden and Paul are working closely together in an attempt to build chemistry (including a Drew League appearance together) but Morey's comments speak to Harden as a big-time reason that Paul wanted to come to Houston. From an on-court perspective, Paul's excitement to join another top-tier player might seem obvious but he has never paired with another ball-dominant player in Harden and, given the skepticism some have about the pairing, it makes all the sense in the world that Harden would have been integral in selling Paul on the process.
As noted by Morey, Harden isn't exactly known for being an outgoing guy or a vocal floor leader in the way that some other NBA superstars are. This is a good reminder, though, that fans (and even media types) only see the portion of the story that takes place in the public eye and James Harden is apparently a fantastic recruiter of high-end talent.