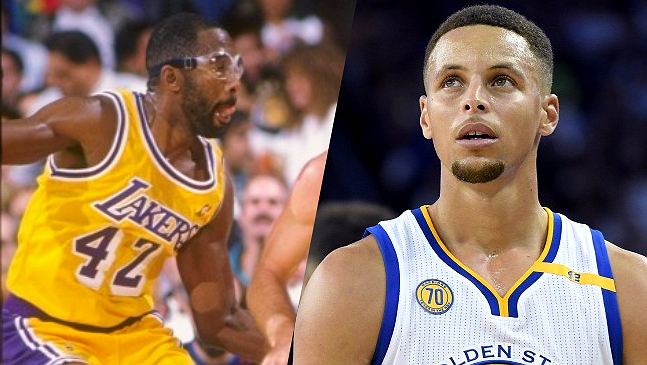 We made it to Dec. 22, 2016 before an old NBA player said during the 2016-17 season that his former team would beat the Golden State Warriors in a game of basketball. That we got this far feels like a miracle, so we should at least look on the bright side that it took this long.
But here comes James Worthy, echoing the words of Magic Johnson last season, that the 1980s "Showtime" Los Angeles Lakers would be too tough for the Warriors to handle. He said these words to For The Win, because why wouldn't he?
"If you're Steph Curry, you're going to have to guard me or Magic Johnson, there's no other way around it. We put in lineups to expose you on the other end. Then we bring in a guy like Michael Cooper, who's the "minister of defense," Byron Scott was another one. If we played the way we played, which was physical and clean but tough, I just don't think it would be a contest."
Wait, why would Curry have to guard either Worthy or Magic? Why couldn't he guard Scott? Wouldn't Klay Thompson guard Worthy and wouldn't Draymond Green guard Magic? Does Worthy have any idea how quick and agile today's players are? Does Worthy really believe Kevin Durant wouldn't drop 50 on Michael Cooper every night? Of course Magic and Worthy would do well against Curry, since they're each about six inches taller. Why would Steve Kerr allow that?
I can't believe we're still doing this, so it's worth repeating — the best teams in 2016 would annihilate the best teams from 1986 in literally every sport. Heck, even the mediocre teams of today would do that. Matt Barkley would win six straight NFL MVPs from 1983 to 1988. And if you don't believe me, the other way works too: No sports team from 1956 would beat any sports team from 1986, no matter how badly the athletes from the 1950s want to believe toughness would carry the day.
Please rejoin us in two months when Cooper tells someone he literally wouldn't allow Durant to score a single basket in a game if they played each other in the 1980s.
Also: In the above photo, that's Worthy guarding Kiki Vandeweghe on Nov. 11, 1990 in a game between the Lakers and Knicks in Los Angeles. The 32-year-old Vandeweghe dropped 22 points on Worthy and the Lakers, who went to the NBA Finals that season. But sure, Worthy would blanket Steph Curry. You bet.