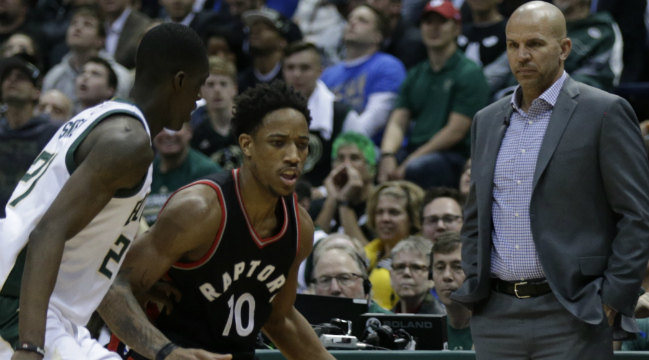 Steve Kerr has a pretty sweet gig right now. He's viewed as one of the best coaches in all of basketball, as he's helped navigate the Golden State Warriors through the Western Conference in each of the last four years. In three of those four seasons, Kerr and the Dubs have managed to win an NBA Championship.
Kerr will turn 53 in September, so he's relatively young and could keep coaching for some time. However, Kerr has had some well-documented health issues that have caused him to spend time away from the team, a wild card when it comes to his future on the bench in the Bay.
If he were to decide to retire as a coach and move onto something else — whether it be television, a front office role, or something far away from basketball — the Warriors would likely be the most appealing job in the league. Plenty of names would throw their hat into the ring should it open up, but Jason Kidd apparently wants to get out in front of the field.

Kidd spoke to Yahoo about a golf app in which he's an investor, 18Birdies, and the conversation eventually moved to his future as a coach.
"One day, I'll come back and hopefully coach in the Bay Area," Kidd said. "This has always been home. And so hopefully maybe in high school, maybe in college. Or maybe if Steve Kerr ever decides to stop coaching, I can maybe help out with the Warriors one day."
Kidd has four and a half years of coaching experience — one year with the Nets and 3.5 years with the Bucks. He accrued a 183-190 record during his coaching career, and was fired by Milwaukee 45 games into this past season.