Jason Kidd is a point guard for the true basketball connoisseur. His name doesn't often come up in the discussion of the greatest of all time at his position nearly enough, but in his prime, there were few players in NBA history who could match his play-making abilities, his court vision, and his all-out tenacity on both ends of the floor.
If you ask any of his contemporaries, Kidd was the guy everyone wanted to play with, a player's player who made the game easier for everyone around him and brought an off-the-charts entertainment factor that would've broken the internet in the age of YouTube and social media.
He led the New Jersey Nets to back-to-back Finals appearances in 2002 and 2003 and came full circle when he returned to Dallas at the end of his career to help stage one of the biggest Finals upsets ever, as the Mavs beat the Big 3-era Heat to win the title in 2011.
As a head coach in the NBA, Kidd spent time on the bench for both the Brooklyn Nets and the Milwaukee Bucks. Now, the Hall of Fame inductee has partnered with the makers of the meditation app, Calm, to offer a Masterclass designed to help listeners with mental preparedness to tackle the rigors of everyday life.
We caught up with Kidd this week to talk about mental health in pro sports, the secret to longevity in the NBA, whether triple doubles are actually undervalued now, his favorite Dirk Nowitzki memories, and much more.


Can you start by telling us a little bit about your partnership with Calm?
When I was first introduced to Calm, we had a great meeting and they came up with this idea for a Masterclass, and so we thought it would be great to do. They did all the hard work. It was just a great experience working with them, and I think the Masterclass came out really well.
Again, it's something that I truly believe in, in the sense of mental health and being able to be a better person. This is something that I think Calm is definitely approaching in the right way, and so I was very, very excited to be part of the family.
I wanted to talk a little more about that because it seems in recent years players have become more open and outspoken about mental health, whereas in the past that's something that's been a little more stigmatized. What do you think is driving that?
Well, I think it's awesome that we have players sharing their stories of their mental health, and depression, and anxiety. I think today, it's that taboo to not share weaknesses. It used to be looked upon as a weakness if you're an athlete, just to share something like that if you had anxiety or you had an issue.
Now, I think when you look at other players around them being open about anxiety, I think it makes them more human. I think, too, it just shows that it's alright and that there's different things out there that can help you.
I don't want you to give too much away from your Masterclass, but do you personally have a meditation or a yoga practice or something else that sort of helps you stay centered and focused?
Yeah, when starting my day, you listen to the app, and it's 10 minutes, and you just kind of center yourself. That's kind of where I start my day, listening to Calm in the morning and also at the end of the day. By music, by Calm, or by being with the kids having a story kind of read to them, which, I think, is very helpful and special with the kids, putting them to sleep.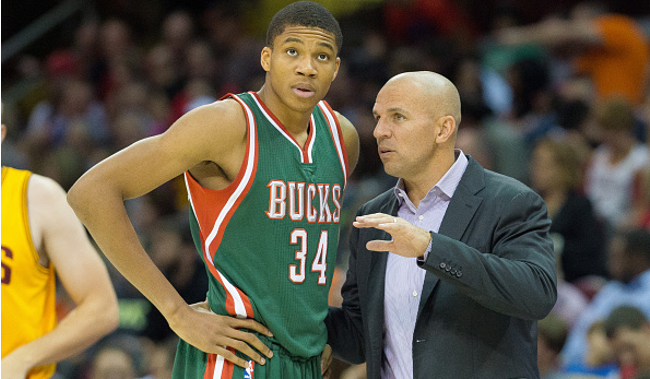 To turn to basketball a little bit, a player who you coached, Giannis Antetokounmpo, has really come into his own as one of the top MVP candidates this season. What have you seen from him this year that's taken him to that next level?
He's worked. He's worked extremely hard on his game. I think the mental aspect and physical aspect is matching up. I just really think that he is very gifted. He wants to be great. He wants to be one of the best in the world, and he's worked at it. And, I think for him, it's just a process of going through the time and not just thinking it's going to happen overnight, and he's done a great job at working at his game at that. Again, he's one of the top players in the world, and he's only going to get better.
You are one of the all-time leaders in triple-doubles, and Russell Westbrook just passed you for that No. 3 spot earlier this season. In terms of just the way we think about triple-doubles now, it almost feels like it's lost some of its luster. Do you think that we maybe take it a little bit too much for granted now, or has the game evolved in a way that it's maybe not as meaningful as it used to be?
I think one, for Russ passing me, I think there's no better person. He's incredible. From start to finish, he comes out with this passion, and he plays the game at a very high level, and I hope he passes Magic, and I hope he catches Oscar. But I think sometimes we can take it for granted. Because what he's done the last two seasons, averaging a triple double, I think we can take it as, that's just the norm now.
Unfortunately, it's extremely hard to get one. I watched the rookie from Dallas, Luka [Doncic], last night, and he was on the verge of getting a triple-double, and it's hard. But I think there's so many of them now, that I think we just associate it as just a norm because the guys are so talented.
As a player, you were someone who had to work to improve your jump shot over the course of your career. When you look at someone like Lonzo Ball, who's drawn a lot of comparisons to you, what advice would you have for him to work on improving his shot and his efficiency?
Well, I think you just said it. He's got to work, and, it's going to take time. I mean, he has the other aspect of his game that he's extremely good at, and so I think as he gets older and as he continues to work on his game, his shot will become consistent. But, you have to put in the time. I think he's a guy that works, and so I think that as we go forward we'll see that his jump shot will get better as he gets older.
There's a lot of debate about whether it's a matter of, like you said, just putting in the work, as opposed to maybe altering mechanics or changing your form. In your experience, did you feel like you had to alter your mechanics? Or, was it just a matter of repetition?
For me, I think it was both. I think it was mechanics and just working on it. I think there's never been a perfect player to come into the league, and there's always room for improvement. So, I think you continue working on mechanics, and then just understanding being comfortable with the new mechanics and trust. That just takes time.
For me, as I got older, I started to focus on working on my mechanics, and then trusting what I've got, with the time on the floor, to practice it, I could trust it, and it worked out for me.
You've told some great Dirk stories in the past. As his career starts to wind down, when you think about the time that you spent with him, is there a moment that stands out? Is there a favorite memory that stands above the rest?
Well, it would have to be the night in Miami in Game 6 [of the 2011 Finals], when we won the championship. Just in the locker room, just being a part of that with one of the greatest players of all time, to be able to do it with him, was just something else. I'll never forget, because you had not just him trying win his first championship, but for me to win my first, and so, that moment will be something I'll never forget.
And I think one of the others that we both have is my first day with him when I got traded from the Nets to Dallas, and he was trying to show me how to shoot. Some of the things that he was telling me to do, I just couldn't do, and so I told him, "I'll leave the shooting to you, and I'll do the passing."
I'm actually in Dallas, and I got to see him last night. He's just a remarkable athlete. At seven feet, he changed the game. You can see today seven-footers are shooting threes and playing on the perimeter. He had a lot to do with that. It's just cool to be around someone who changed the game.


Dirk has played 21 seasons now. Another former teammate of yours, Vince Carter, he's in his 21st season now, as well. You played 19 seasons. What's the key for longevity in the NBA, as far as your experience has been?
I think that one, you got to be lucky. Two, you have to be dedicated to taking care of your body, mentally and physically, because it's a marathon. Also, the right system, being in the right system, having the right teammates to carry the load. But, I think it just shows longevity. Guys are 40 years old and I think Dirk is 41, Vince is 40. It's pretty cool to see them still have an impact at the highest level.
Do you think a part of it is just coaches maybe getting smarter about resting players? It seems like the sports technology has made a big impact, too.
I think training and our technology has been a big part of that. I think when you have that opportunity, you know, in Calm, to be able to be a part of your journey, it will always help you, and so technology, food, sleep, it's more precise. There's a lot of tools out there to help. Players are going to be able to play longer because of that, and that's cool.
You joked earlier in the fall that you would love to coach the Warriors. Is a return to coaching in the cards for you right now?
Yeah, I would love to get back and coach in the NBA. I think being humble, being understanding, helping develop players get to where they want. Hopefully, I get the opportunity to do it again.
Having been in that situation where you had an opportunity to work with young talent to help develop them, would that be a situation that you would want to be in again, or as you were saying, would you rather work with a contender-type team? Or, does it matter?
It doesn't matter. I've done both, in the sense of the veteran team I had Brooklyn, and then, in Milwaukee, having a young team. So, I'm open to do either and hopefully have the success that I had in both Brooklyn and Milwaukee. It doesn't matter. Having contenders is fun. Both jobs are hard. A young team or a veteran team, they're hard jobs. But, it would be fun to have that opportunity.
Seeing Luka Doncic come in for the Mavs as a rookie and be as poised and as good as he is already, what are your thoughts on him? And, do you see any parallels with Dirk? Will Dirk, who was in a similar situation as a rookie, maybe be able to help him continue this transition from coming over from Europe and make his way in the NBA?
Yeah. I think Dirk will be a great bridge for him. But, making the transition, he's been a pro since he has been 13, 14, years old. What I love about watching him is he's just calm. He's always under control. He's not caught up or out of control. He's in the moment, a great passer. To be 19 is pretty special. Being around Dirk is going to help him because Dirk was a pro, I think, at 16, so they have a similar background. I think that he's going to be a very good ally for him. Being on the same team, understanding what's coming, what it means and what it takes to be great.