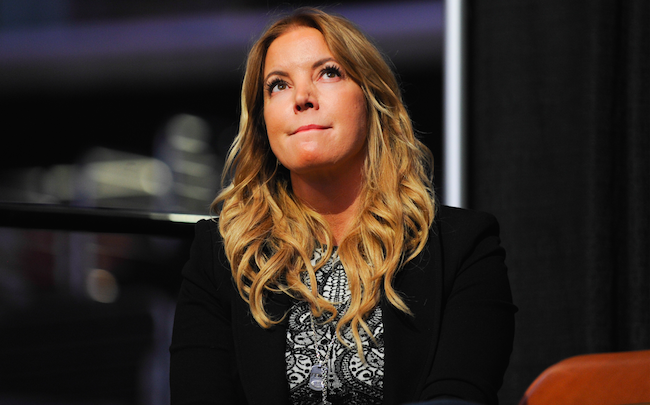 The Los Angeles Lakers are entering their biggest offseason in years as they have the most cap space in the NBA and plan on trying to land the top two free agents in LeBron James and Paul George.
The contingency plan for those two not signing in L.A. is unclear, as they'll have to fill their roster and cap room somehow — with an eye towards still having lots of space for 2019 to chase next year's big free agents. That may mean signing players to significant one-year deals like the Sixers did last year with J.J. Redick and his $23 million deal.
Until the dust settles in free agency and the Lakers either come out on top or have to resort to Plan B, we'll all be searching for clues into who will be joining Lonzo Ball, Kyle Kuzma, Brandon Ingram, and the rest of the young squad in L.A. On Wednesday night, Jeanie Buss caused NBA Twitter to put on their tin foil hats with a cryptic tweet that said "do not ever underestimate" before trailing off.
https://twitter.com/jeaniebuss/status/1007096664136540160
Social media has been amazing for sports fans, as information arrives with great speed. It also allows for players, executives, and anyone else to tweet random things for their enjoyment that they know will set everyone else off. The timing of Buss' tweet was strange, and it led to some rampant speculation about what it may be about.
So, naturally, we'd like to add to that speculation and try to figure out what it could possibly mean for the Lakers (or the rest of the NBA).
1. Do not ever underestimate … Magic Johnson convincing LeBron and PG to come to L.A.
This is the one most jumped to immediately, that Buss was insinuating there was some movement on the Lakers' free agency hunt while being vague enough and smart enough to avoid another tampering fine for the organization. L.A. is now the betting favorite to land James, so it could be something related to that. It seems early for there to be anything actually happening, but anyone who thinks there aren't at least some off-record, maybe-not-legal-by-the-letter-of-NBA-law conversations happening with all these teams is naive. That said, I refuse to believe there's any actual victory laps to be made on June 13, so I'm inclined to believe there's something different going on.
2. Do not ever underestimate … the Sacramento Kings to do something stupid.
The timing of this tweet was minutes after reports started surfacing that the Kings were considering drafting Michael Porter Jr. with the second overall pick. The Lakers and Kings haven't been real on-court rivals for awhile, because they haven't both been good in over a decade, but there's still some animosity between them. The Kings are always capable of doing something wild in the draft and maybe Buss was jabbing at their in-state foes to the north.
If it were about the Kings, that'd be pretty funny, but maybe it's not about free agency or the draft at all.
3. Do not ever underestimate … Kyle Kuzma as a diss rapper because I heard his tape and had to squash the Lonzo-Kuzma thing before it came out, J Prince style.
OK, stay with me here. There were reports earlier in the day that the Lakers front office had told Lonzo Ball, Kyle Kuzma, and Josh Hart to tone down their antagonistic social media posts at each other after Ball escalated things to a new level with his diss track on Kuzma. What if that request happened because Kuzma was about to drop a track that would flame Lonzo and the entire Ball family and possibly tear the young Lakers apart from the inside, so she told them to stop it before that came out like J Prince in the Drake-Pusha T beef. In a world in which executives are getting fired/resigning in disgrace for their wives having burner Twitter accounts defending them and leaking sensitive information, anything is possible.
4. Do not ever underestimate … my ability to mess with everyone and get people talking.
It might be nothing! It might be about a great dinner she just had. It might be her just having fun on social knowing Lakers fans and fans everywhere are stressed about the upcoming free agency and she enjoys stoking the fires and rumors.