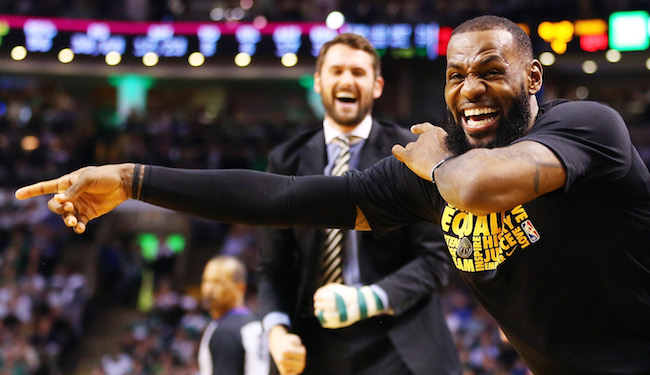 We are still almost a full four months away from NBA free agency starting and the playoff (and tanking) races in the NBA are as wild as they've been in years, but one can't help but look ahead to July 1 when LeBron James becomes a free agent in earnest for the first time since 2014.
James won't even entertain actual talk about his upcoming free agency decision until it's time to actually make it, so trying to glean any real information from the best player in the world is nearly impossible. That said, everyone has spent the past year trying to read between the lines on any and all LeBron statements or actions to determine if he's hinting at his next destination.
Those that know James best insist that he won't come to any actual decision until after this season, but that doesn't mean he isn't narrowing down his options (or that we can't speculate about his future). While there will be plenty of teams trying to land James, there are only a few expected to land a meeting with the King that he'll take seriously.

The Ringer's Kevin O'Connor wrote about the possible demise of the Spurs' dynasty on Thursday and noted that while there have been some that have postured LeBron might try to link up with Gregg Popovich in San Antonio, the Spurs are not among the four teams those around the NBA believe to be on LeBron's list for this summer.
There have been whispers, mostly on social media, about whether LeBron James would consider the Spurs because of the mutual respect between James and Popovich, now the coach of the U.S. men's national basketball team. But I've consistently heard from multiple league sources that LeBron currently has only four teams on his list: the Cavaliers, Lakers, Rockets, and 76ers.
Those four teams aren't a surprise, but it does give you an idea of how focused most in the NBA think James will be in his free agency decision-making. The Cavs, Lakers and Sixers will all be able to offer him max money this summer, with each presenting various pitches for why he should want to play (or stay) in their city. The Rockets have less money to offer (provided they can make the requisite moves to unload Ryan Anderson's salary), but the opportunity to be a legitimate title contender immediately and play with his good friend Chris Paul.
If those are indeed the four teams, we'll learn a lot about LeBron's priorities with whatever selection he makes. He can go for location, location, location (L.A.), loyalty and money (Cleveland), rings and friendship (Houston) or the young contender and money (Philly). All of them justifiable choices and all of them will result in hurt feelings from three other fan bases.
(h/t SLAM)
Have you checked out the DIME podcast?