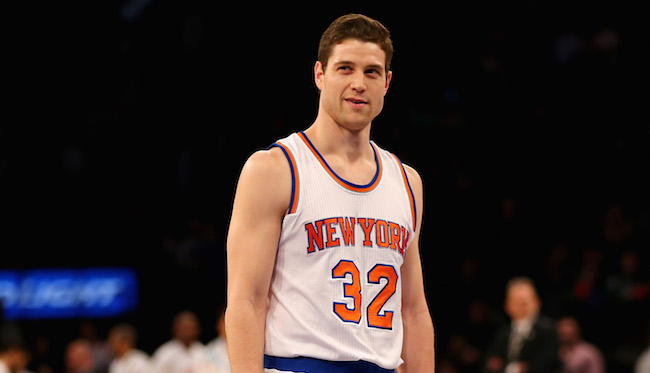 The Chinese Basketball Association often features some of the most insane stat lines in all of basketball, with former fringe NBA players often dominating the competition and posting absurd numbers.
The restrictions on former NBA players to absolutely chuck in China are almost non-existent. For example, Russ Smith once threw up an 81 point game in China, while Josh Smith took 18 three-pointers in a game, because he's Smoove and they let him. Former BYU star Jimmer Fredette never quite panned out in the NBA as a sharpshooter like many thought or hoped he would, but in the wide open CBA, he will put up ridiculous stats for the Shanghai Sharks.
Last year, Fredette had himself a 73 point game, coming nine points shy of the all-time CBA record, and on Wednesday, he posted Russell Westbrook/LeBron James type numbers in a game in which he hoisted 20 three-point attempts.

This game helped raise Fredette's season scoring average to 38.6 (!) points per game which is good for third in the league. In learning this fact, I went to the CBA stats page on RealGM.com, which I highly suggest going to to check out the names dominating the league because it's fantastic.
Right now, Jared Sullinger is averaging 40.2 points, 17 rebounds, and 2.4 blocks per game through five games and is probably the league MVP. He's freaking Wilt Chamberlain out there. Fredette is averaging 14.8 three-point attempts per game (and shooting a robust 45.9 percent on them, at that) and that's not even the most in the league! That honor belongs to Darius Adams, who is averaging 42 points per game (to lead the league) with 15.6 three-point attempts a night.
Brandon Jennings is averaging 31 points, 7.4 assists, 6.0 rebounds, and 3.8 steals (!) per game so far, while Jamaal Franklin (32.6 points, 10.2 rebounds), J.J. Hickson (29 points, 12 rebounds), Luis Scola (27.2 points, 14 rebounds), Yi Jianlian (26.6 points, 13.8 rebounds), Terence Jones (24.6 points, 10.6 rebounds), and Shavlik Randolph (23.4 points, 13.4 rebounds) are all averaging absurd double-doubles. Von Wafer is scoring 20.6 points per game in 24 minutes per game. Tyler Hansbrough's averaging 21 and 9.2 in 25 minutes per game.
In short, the CBA is amazing and I wish there was a way to buy a subscription to stream games because they seem wildly entertaining.