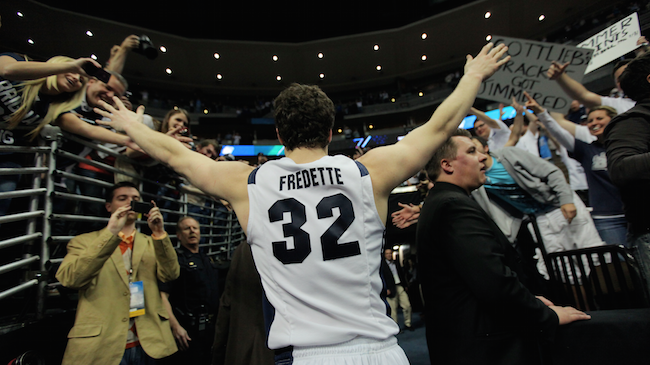 Hey, remember Jimmer Fredette? The former BYU standout who was taken above Klay Thompson in the draft and has failed to stick in the league after stints with Sacramento, Chicago, and New Orleans? Well, he's back.
ESPN Knicks Reporter Ian Begley is reporting that New York is planning on signing Jimmer to fill an open roster spot.
Fredette turned down offers to play overseas this season after being cut by the Spurs in the preseason. He played four games in New Orleans in November and then opted to join the Knicks' D-League affiliate, the Westchester Knicks. In the D-League, Fredette has been tearing it up, averaging more than 22 points per game and winning the D-League All-Star Game MVP.
Having success in the D-League is nice, but Fredette will have to prove he can consistently connect on shots from the perimeter if his latest stint in the league is going to last. The former national collegiate player of the year has struggled to consistently get minutes during his five NBA seasons, as he has failed to make a substantial enough impact offensively to excuse his bad defense.
However, Fredette has certainly proven in lower levels he can fill up a stat sheet, so if the Knicks give him a real opportunity to get some playing time in his home state, perhaps he still has a chance to salvage his NBA career.
(Via Ian Begley)