The Chicago Bulls are a mixed bag. In the aggregate, the team is reasonably solid but wholly unspectacular, posting a 19-19 record with a -0.4 net rating that is likely indicative of a .500 basketball team. However, the lows are very low for Chicago and the highs have been quite impressive. In the team's most recent "high," Jimmy Butler has been unbelievable and that isn't a coincidence in the slightest.
The Bulls won three straight games to begin calendar year 2017 and in those contests Butler's production was off the charts. The talented swingman from Marquette averaged 38.0 points (including a stellar 63.9 percent true shooting), 9.3 rebounds and 6.3 assists per game in that trio of games. Within that selection, Butler produced a 52-point outburst against the Charlotte Hornets and a 42-point showing in a close-fought loss to Toronto. Amazingly, though, that isn't the most impressive part of what Butler has done.
To begin the month of January, the Bulls faced off against three quality teams in Charlotte, Toronto and Cleveland. To the surprise of no one, Chicago needed his heroics to even keep those games close, much less win them outright, and Butler's performance in the fourth quarter and overtime was, simply, out of this world. Butler sported a PER of 75 (!) on a usage rate of 48 percent in such instances, and while that is a small sample, the performance has been comically good. The Bulls did run into a wall in the form of the Thunder in their last contest, but Butler nearly missed the game with illness and, plainly, his play was clearly hampered.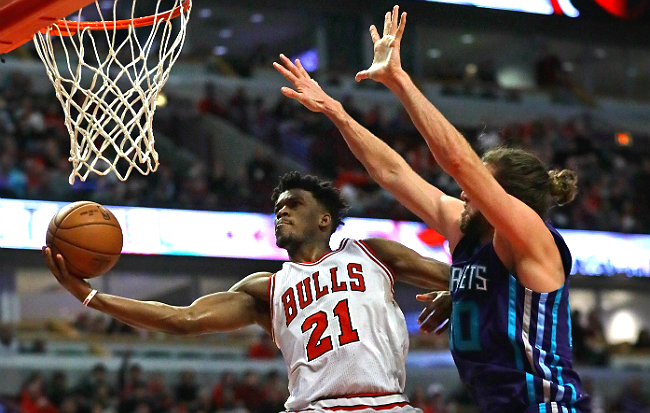 The NBA world is taking notice of the Bulls during the stretch, if only because the Eastern Conference is such a mess in the middle that a three-game winning streak is impossible to ignore. There is another reason, though, that Butler is making headlines and it centers around trade rumors that rather inexplicably include his name. Why, you ask, would a major-market team consider dealing its best player with two years remaining on a bargain-basement contract?
In truth, I have absolutely no idea.
Jimmy Butler probably won't be the best player in the NBA at any point and, frankly, he may not be one of the 10 best in the league today. With that said, the 27-year-old is in the midst of a prime that includes being a no-doubt selection to the All-Star team annually and, again, being the best player on a team that could potentially reach the playoffs. Beyond that, the Bulls have done Butler absolutely no favors in constructing the pieces around him.
With a top-20 player in his prime, the impetus for most franchises would be to put said player in the best possible position to succeed. Butler is not a knockdown shooter, as he owns a 33 percent career clip from beyond the arc, and his offensive game is limited to some degree in that way. Did Chicago's front office surround him with knock-down assets to space the floor around his talents? Well, no.
The signing of Rajon Rondo was widely panned by NBA pundits and, while that doesn't make a move right or wrong, it certainly has not worked out in this case. In the best case scenario, Rondo would have provided high-end passing ability and reasonable defense to go along with some sort of veteran persona. Instead, the aging point guard has not appeared in a game since late December due to a demotion to the bench and the spacing provided by his presence was non-existent.
That brings us to Dwyane Wade. On his own, Wade has been quite good this season. In fact, he has resembled Dwyane Wade at times. The 34-year-old has a legitimate All-Star candidacy based on efficiency and productivity this season and, if surrounded by the perfect complementary pieces, the Wade-Butler partnership could work. However, Wade isn't easing anyone's spacing issues at this point in his career and his acquisition seemed to work directly in contrast to handing the keys to Jimmy Butler in a long-term sense.
Without diving deeply into the rabbit hole that is the Bulls front office, the decision-making is rather incoherent. Butler is the team's best asset and a success story for a late first round pick in a way only matched by the likes of Rudy Gobert in recent years. He is averaging 25.0 points, 6.7 rebounds and 4.6 assists per game with a career-best 26.0 PER on the season. In short, he has been utterly phenomenal and any team in the league would have to be salivating at the off chance to acquire him even with a king's ransom.
There is, of course, the possibility that the Bulls aren't actually thinking about dealing Jimmy Butler. The rumor mill can be fickle and not everything should be believed. In the same breath, there is usually some level of fire to the smoke of a rumor like this and it would not be the first time that Butler was mentioned as something of an inevitable trade chip.
That line of thinking is baffling, and the recent stretch of brilliance might serve as a reminder to the Bulls front office that they already have their centerpiece of the future. Jimmy Butler probably isn't going to be the best player on an NBA title team, but he might be the second-best and Chicago has the mystique, bankroll and market size to attract another top-tier asset if they simply manage their roster sheet in competent fashion. Instead, it appears that they are thinking about moving on from the best part of their basketball-related war chest of assets. If they do, it is safe to assume that Butler will make them pay in more ways than one.