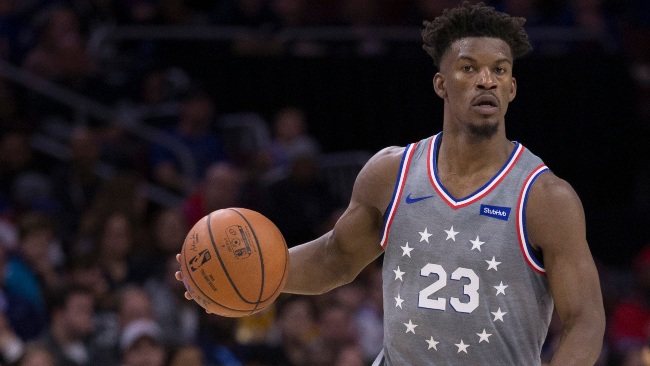 Just when you thought we'd closed the book on the mess in Minnesota that was the end of the Jimmy Butler era, freshly-healed wounds have suddenly been re-opened. In a recent interview with veteran writer Jackie MacMullen of ESPN, Kentucky coach John Calipari weighed in on the whole ordeal, claiming that his former player Karl-Anthony Towns was bullied by Butler.
"Things happen. There are power struggles all the time in [the NBA]," Calipari said to MacMullen in November. "If a guy can bully you, he will bully you. And that's what Jimmy did to Karl. C'mon, that's the league."
The entire piece is well worth the read, as Calipari also discussed how Derrick Rose has reportedly helped Towns work through what's happened this season. MacMullen spoke to Butler about it to get his side of the story, and unsurprisingly, he took exception to the characterization that he bullied KAT. In fact, he had quite a lot to say on the matter, including that he planned on confronting Calipari about his accusations the next time they meet in person.
Via ESPN:
"I don't think bully is a good word," Butler told ESPN. "I tell it how it is. Whenever I was in college, I had [Marquette coach] Buzz Williams to tell me how it was. I didn't have a bunch of McDonald's All Americans like [Calipari] has. So, he can look at it a different way. "

Butler paused, perhaps to consider ending the conversation. But he couldn't — and didn't.

"He can call me a bully, but when [Calipari] sees me, I'm gonna confront him about it," Butler continued. "If I'm a bully, I'm gonna bully him, too. I'll tell him how I feel, just like I'd tell anyone else.

"I don't care if he's some big head coach. I'm not bullying nobody. I'm just keeping it real. Some of these guys aren't used to it. When you have as much talent as [Karl] has had throughout his life, guys don't keep it real with him. I do."
Rose had perhaps a more nuanced take on the matter. In the article, he talked about how different players require different communication styles, and that Butler was unwilling to adapt his style when dealing with others.
The type of adaptation might be precisely what's required of him if he's going to secure his long-term future in Philadelphia. He's already expressed some discontent with his role with the Sixers, as have his teammates since he came to town, but outward appearances, however, appear to tell a different story.
(Via ESPN)