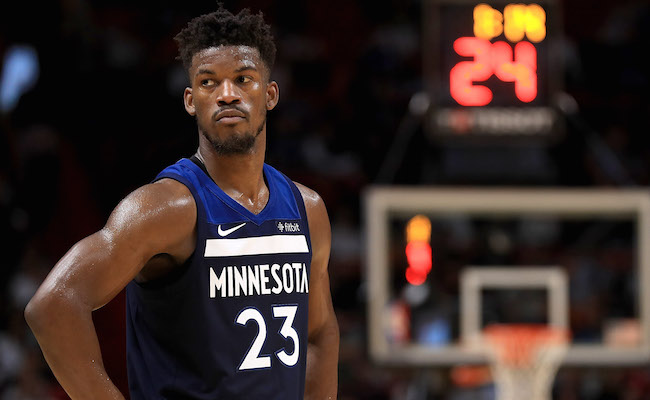 The Minnesota Timberwolves will start training camp next week, but before they can get the whole team together for the first time this offseason, they have some issues to take care of first.
Namely, Tom Thibodeau and company have to address the concerns of star Jimmy Butler as he enters the final season of his deal with Minnesota. A meeting between Thibs and Butler was initially reported for Monday in Minneapolis, but Butler took to Twitter to explain that report was incorrect, because the meeting was on Tuesday.

With Tuesday arriving, ESPN's Adrian Wojnarowski relayed some new details about the meeting and where it would be held. According to Woj, there has been a venue change and it's now Thibodeau flying out to Los Angeles to meet with Butler, rather than Butler heading to Minnesota to meet with the Wolves.
This likely isn't a huge deal, but it does mean Butler still won't have gone back to Minneapolis since he left after the season ended. Once the meeting with Butler ends, the job isn't done for Thibs and the Wolves' brass, as their next job will be to meet with Karl-Anthony Towns as the rookie extension deadline looms in the not so distant future. Towns reportedly wants the Butler situation taken care of before he puts pen to paper on a deal, and so resolving any issues with Butler during Tuesday's meeting — or determining if he needs to be put on the trade market — will be a top priority.