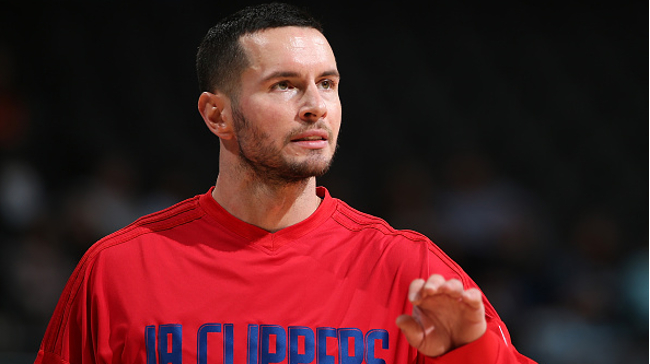 There will probably be a number of teams trying to acquire J.J. Redick in free agency this year. Redick is among the best shooters in the NBA, and even though he just turned 33, his ability to stretch the floor is arguably the most valuable skill for a role player to possess.
According to Kevin O'Conner of The Ringer, two of the teams that will make a "hard push" to bring Redick in are Brooklyn and Philadelphia. Should he go to either team, O'Conner pointed out that it could give Redick the chance to do something he's never done before.
He is one of the greatest 3-point shooters in league history, and is coming off a season in which he averaged a career-high six 3-point attempts per game. That's a lot of triples, but it's not enough. Even Sixers swingman Robert Covington averaged more last season, at 6.1 per game, and he shot only 33.3 percent. A gunslinger of Redick's caliber should be averaging about 8.5 treys, in the same range as Klay Thompson or Eric Gordon. Had Redick taken 8.5 3s last season and posted the same 42.9 percent clip, he would've averaged 18.2 points per game.
It's kind of crazy to consider that Redick, despite being an absolutely deadly shooter from downtown, has somehow never averaged more than six attempts per game from behind the arc. Sure, the Clippers had Chris Paul and Blake Griffin, but Redick is still the kind of guy whose ability to shoot should be a major asset for an offense.
In Brooklyn, that would very likely be the case, as the team's offense could really use a veteran in the backcourt to make D'Angelo Russell's life a little easier while he gets used to playing for the Nets. And while Redick probably wouldn't be the centerpiece of a Sixers offense that would include Joel Embiid, Markelle Fultz, and Ben Simmons, he would probably get a ton of open looks. Plus in both scenarios, he'd have the freedom to let it fly — Brooklyn was fourth in the league in threes attempted per game last season, while Philadelphia was seventh. (Making threes was a different story, as the Sixers knocked them down at a rate that was 24th in the league, while the Nets were 26th.)
Redick is going to be the kind of guy who makes an impact wherever he goes. While he's the kind of guy who can ring chase at this point in his career, there would be something really fun about him being the savvy veteran on a young squad like Brooklyn or Philadelphia. No matter where he goes, though, hopefully he gets the green light to hoist up as many threes as he wants.
(Via The Ringer)