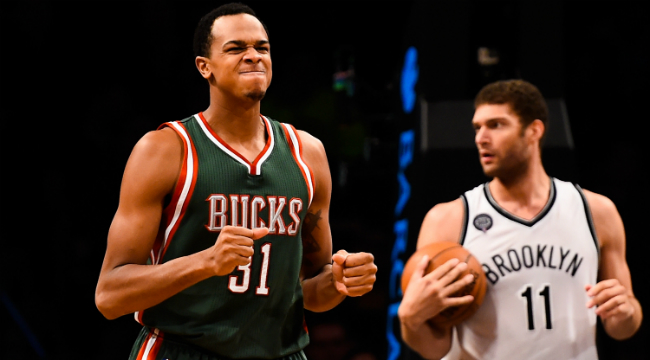 The New Orleans Pelicans have Anthony Davis. The Utah Jazz have Rudy Gobert and Gordon Hayward, but the Milwaukee Bucks may be the small-market team most set up for future success in the NBA. They've come to terms with center John Henson on a four-year, $44 million contract extension, according to Adrian Wojnarowski and Marc Stein. Henson lost the starting center gig to free agent signing Greg Monroe this offseason, but he was still willing to commit to this team long-term. Monroe's presence clearly doesn't bother him.
It's extremely difficult to gauge any player's monetary value as the salary cap is still set to jump (and a potential lockout in 2017 plays on people's minds), and Henson is no different. He's 24 years old and took a major leap defensively in Jason Kidd's system, increasing his block percentage from 5.1 to 9.3 and his defensive box plus/minus from 1.4 to 4.6 (both stats courtesy of Basketball-Reference). But he still hasn't proven to be a consistent offensive player, as he's turned the ball over more per minute each season of his career even as his usage rate has gone down.
Henson's lack of offense was presumably a big motivation for the Bucks to get Monroe, a low-post scoring beast. And now, rather than let him test restricted free agency, Milwaukee has signed a reserve center to an $11 million-per-year deal. And it's still not clearly an overpay!
Consider that for the next two seasons, the Bucks will roll with a frontcourt of Giannis Antetokounmpo, Jabari Parker, Monroe and Henson before Giannis hits restricted free agency (if the Bucks don't extend him, too). That's a lot of talent on both ends of the floor. They already locked up Khris Middleton for their backcourt, and Michael Carter-Williams still has a chance to become a real asset. With all the money coming into the league, the Bucks aren't as inflexible as one might think a team with all these players under contract would be, which allows them the luxury of paying a player $11 million per season without any plans to start him.
Of course, one of the Bucks' biggest assets doesn't count against their salary cap — Jason Kidd, who by now has proven to be, if not objectively a great coach, then one who has presided over surprising playoff runs in consecutive seasons. The future looks bright in Milwaukee, and the team is thankfully committing to keep it that way.
(Via Yahoo Sports)