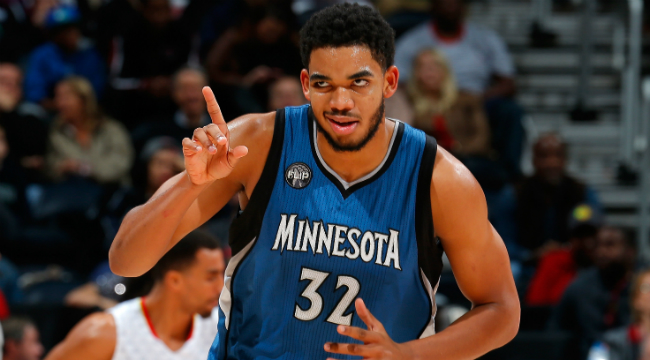 It may surprise few, but the top overall pick from June's NBA Draft is clearly the best rookie so far this season. Karl-Anthony Towns may be more polished than expected, but he was picked first for a reason, and he's a big part of the Minnesota Timberwolves' surprising success early in the season. But this rookie class is different than in year's past — it's actually deep.
The 2013 class, headed by Anthony Bennett, was full of long-term projects. Some of them are coming into their own as potential All-Stars (Rudy Gobert, Giannis Antetokounmpo), some are just beginning to bear fruit as real rotation players (Otto Porter, Cody Zeller), but it wasn't much of a Rookie of the Year race.
In 2014, injuries ruined what could have been a great rookie season. Andrew Wiggins was fun, sure, but Jabari Parker and Julius Randle were both in exciting situations to showcase their skills, and are only getting to do so this year. Other rookies, especially Magic picks Elfrid Payton and Aaron Gordon, showed potential for the future but didn't produce all that much. Undrafted Langston Galloway made the All-Rookie second team in 45 games, for crying out loud.
2015 is shaping up to be a whole different story, even if the pack is just chasing KAT. The class was billed as loaded with talent, and so far a lot of it has delivered. Rookies are making contributions and looking comfortable at an exciting rate, and it's made the early regular season a ton of fun for fans of young teams. Time will, of course, have to tell about the long-term prospects of all of these youngsters, but from what we've seen on the court, our top-five for the Rookie of the Year award would look like this if we voted on it today.
5. Justise Winslow
Like a couple of other players on this list, Winslow's outside shot still isn't there, and he's not required to score very much on a team with high-usage players like Dwyane Wade, Chris Bosh and Goran Dragic. But he certainly doesn't hold their offense back. He's a good penetrator and his finishing is okay (and should improve as he settles down). Justise is already an above-average passer, too. He moves the ball quickly and decisively and has made some excellent entry passes into the low post, when many rookies are only comfortable swinging the ball on the perimeter.
Erik Spoelstra is already using Winslow to guard wings and power forwards, and while he's prone to get beat by veteran cutters, he's physically up to the task. He could be an advanced-stats darling with all the little things he's getting asked to do.
4. Emmanuel Mudiay
Mudiay is perhaps even more undeveloped as a shooter than Winslow, yet he's shooting nearly twice as much. That says more about their team situations than it does about them, but Mudiay has been wildly inefficient as the Day 1 starting point guard for the Nuggets. He turns the ball over a ton and has shot only 31 percent from the floor. And yet, it's easy to see the potential star in there — especially if he can continue to mature. He's a very good passer, especially on dribble drives, with one of his moves being a wraparound baseline pass to a corner shooter:
He's done this a couple of times, and if he can do it with fewer turnovers, he can be an elite distributor. His defense also needs some work, but he's got the hops and the wingspan for that, as well. And if he keeps getting the ball this much, he'll put up the stats to keep him in the ROY discussion all season.
3. Jahlil Okafor
Speaking of box score candidacies, Okafor could conceivably finish his rookie season with more than 20 points per game (he's at 19.2 right now), which hasn't been done since Blake Griffin (a full season after he was drafted) in 2010-11. He's immediately been the 76ers' primary scoring option, and though he hasn't been all that efficient, he's showcased an array of post moves and a reliable jumper from 10-15 feet. Range even that far will allow his post game a little more space to breathe, and bodes well going forward.
Defensively, the jury's still out. He's averaging nearly two blocks a game, which is good, but doesn't mean all that much. His whole rookie year will be spent trying to suss out just how good he is on a team this bad. But he's demonstrated real skill and is scoring a lot, which should be good enough to keep him in the conversation.
2. Kristaps Porzingis
Porzingis has been the most pleasant surprise among the rookie class. Expected to be a raw string bean, KP's displayed more strength on the block than anticipated, and a good sense of timing and spacing. When he's open, he shoots with confidence and rhythm, and he's been decent from inside the arc (and only 22 percent outside, which needs to improve if they're going to keep being a quarter of his attempts) and above league average at the rim at 55 percent (according to Basketball-Reference).
KP's been very good — and occasionally… spectacular — on the glass, and seems to relish the spotlight, which can seem almost as important as his production in New York. He's been embraced completely by Knicks fans, which will drive his ROY case all year, especially if the threes start falling. But it's safe to say he's well ahead of schedule.
1. Karl-Anthony Towns
KAT's already averaging a double-double, with more than 59 percent shooting at the rim and more than two blocks per game. He's already one of the better players in the NBA. He looks on his way to building a dominant rookie campaign along the likes of Blake Griffin and, going further back, Tim Duncan. Under the tutelage of Kevin Garnett and with an expert distributor like Ricky Rubio (stay healthy Ricky!), Towns is set up for success in a truly meaningful way. Like Porzingis, Towns is ahead of schedule, but no more projection is necessary. He's really good right now, and Rookie of the Year looks like it's aiming low for his ambitions.