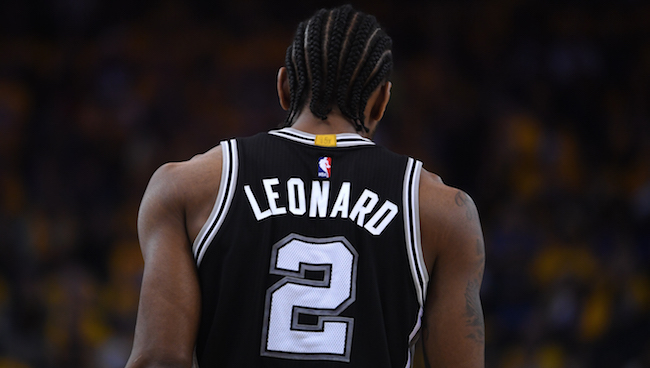 In plain terms, the San Antonio Spurs aren't close to the same team without Kawhi Leonard that they when the All-NBA forward is at full strength. San Antonio's early-season performance in Leonard's absence was both impressive and admirable but, in recent weeks, the team's effectiveness has dwindled to the point where the Spurs are in actual danger of missing the 2018 NBA Playoffs.
However, there was a ray of light in that Leonard was projected to return to action on Thursday against the New Orleans Pelicans. Sadly, though, that hope evaporated on Tuesday with word that Leonard was not, in fact, ready to play just yet and, with that as the backdrop, head coach Gregg Popovich shed additional light later in the day on his star's status.
"Like anybody else, he's frustrated," Popovich told Michael C. Wright of ESPN. "He wants to be playing. He's competitive. It's been a tough year for him in that regard. But the first step is he's got to be cleared by his medical staff that he's seeing. And until he gets cleared, we can't make a decision on when he's coming back. So once he gets cleared, then he and I can sit down and talk, and see what we think about an appropriate time to come back. But that clearance has to be obtained first. Nothing overrides the medical staff. That's a negotiation between the player and the coach to figure out what's best."

Beyond the simple notion that Leonard must be medically cleared to return, Popovich also evoked a reference to San Antonio's legendarily cautious approach to player injuries.
"(Leonard) knows very well our history is pretty documented," Popovich told ESPN. "If we're going to err, we're going to err on the conservative side because his career is going to be of paramount importance to us. It's not the game or the playoffs or this or that. It's the same like with Tim [Duncan]. He hurt a knee one year, and we didn't let him go in the playoffs. I don't know that that could be this situation. We don't know. But his career will be paramount in our thinking as we make a decision."
This, of course, does not provide a whole lot of comfort for the current situation of the Spurs, who desperately need to compile victories in order to keep their playoff streak in tact. Still, it is a reminder that there are considerations well beyond this particular campaign and that is doubly true with Leonard given the fact that San Antonio can offer their centerpiece a max contract extension as soon as this summer.
It is undoubtedly strange that Leonard's medical hopes seemingly rest on medical personnel not directly employed by the Spurs but, in the midst of what has been a bizarre situation for a while, Popovich seems to have a level head about his best player's status and that should trickle down through the organization. Having an independent medical staff clear Leonard will ensure his best interests remain at the heart of this saga, but it does leave everyone involved in a bit of limbo regarding his return.