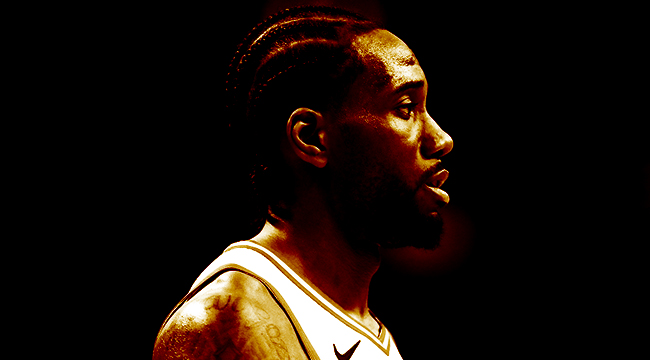 The Toronto Raptors have been in control of the NBA Finals, with the notable exception of the 18-0 run to open the third quarter from the Warriors that effectively won them Game 2. Otherwise, the Raptors have been the better team, which won't make them feel better about it being 1-1, but should give them confidence heading to Oakland, where they now must win a game at Oracle Arena.
Kawhi Leonard was relatively quiet in Game 1, as Pascal Siakam exploded for 32 points in a stunning performance in the win, but came alive in Game 2 with 34 points and 14 rebounds, nearly dragging the Raptors to a comeback win in the fourth quarter. His 34-point outburst gave him 12 games with 30 or more points this postseason, tying Kobe Bryant and LeBron James for the most in a single playoff run in the last decade.
While Leonard's scoring has been impressive and, often, vital to Toronto's success, it's his work on the offensive glass that continues to come up in big situations. The All-NBA forward is averaging 2.2 offensive rebounds per game this postseason, which is tied for the 13th most in the playoffs and is fifth among players that played beyond the first round. Of non-centers, only Giannis Antetokounmpo has more, and Leonard has had a propensity for coming up with huge offensive rebounds in key moments throughout the Raptors playoff run.
There are, of course, the occasional putbacks and lucky boards, but Leonard does a tremendous job of reading a shot in the air and positioning himself to snag a loose board when the Raptors put up a perimeter jumper. Leonard regularly dives to the rim from outside the three-point line when a teammate launches a shot, taking advantage of his defender not being used to having to box out aggressively in those situations, and slips through to snag the board and either go back up or kick it out to an open shooter.

Take the Raptors first possession of Toronto's Game 7 against the Sixers. Pascal Siakam backs down Tobias Harris and misses a short turnaround from the block, but watch on the far side of the floor.
Danny Green flares out to the three-point line, while Leonard creeps toward the wing. Ben Simmons is looking out for a potential pass from Siakam and loses contact with Leonard, who darts by him into the lane. Joel Embiid's man, Marc Gasol, is way out by the perimeter, and the big man isn't expecting any real competition for a board. Leonard, knowing from that angle the shot is likely to miss on the opposite side of the rim, slithers in for the putback layup, untouched by a Philly player.
Leonard would go on to be credited with four offensive rebounds in that win, as Toronto moved on to face Milwaukee. In that series, Leonard's knack for pulling down offensive boards once again showed up in a big way, as a few Leonard rebounds late helped seal wins in Game 5 and Game 6. The one that sticks out in the minds of many was his rebound late in Game 5 off his own missed three-pointer, in which he drew a frustration foul from Giannis pushing him out of bounds.

Once again, Leonard recognizes the shot (this time his own) is off and takes advantage of the lack of boxing out on the perimeter to make his way to the rim. While Antetokounmpo and Gasol battle for the board, he uses his massive hands to gobble it up and earns the foul as Giannis frustratedly shoves him towards the baseline.
In Game 6, he had two huge rebounds late on the offensive end to help end the series. The first came off a double team, as he found Gasol in the corner, who moved it quickly to Siakam on the baseline. While the aggressive defense successfully forces Leonard to pass, the resulting scramble to get back into position actually ends up leaving Leonard all alone, with no one to box him out from the missed shot.
His final offensive board of the game came with seven seconds to play and Toronto up just four, as Siakam missed a free throw and somehow, Leonard managed to pull in the contested rebound, officially sealing the win.

This is what makes Leonard so unique on the offensive glass. His massive hands allow him to control boards in traffic in a way few true centers even can, and it makes him exceptionally dangerous. Of Leonard's 2.2 offensive boards per game, 1.3 of them come in contested situations, per NBA.com/stats. So often, players going for offensive boards struggle to bring them in against contesting defensive rebounders, leading to bouncing balls and tipouts, but Leonard, very often, is able to control them totally and quickly seek out a teammate for a second chance opportunity, or go up with it himself.
In both games to start the NBA Finals, Leonard's offensive rebounding has played a role. He only had one in Game 1, but it came at a critical time to preserve the Raptors' healthy advantage. Kyle Lowry misses a shot with just over 90 seconds to play and the Raptors up eight, but Leonard is able to swoop in for a rebound.
You can see that Andre Iguodala is aware of Leonard's propensity for darting for rebounds on that end and tries to get in his way, but can't get his body in front of him and is unable to draw the foul while selling contact as they get to the paint. Leonard pulls in the rebound and allows Toronto to reset for another possession.
In Game 2, Leonard had five offensive rebounds, but has to work harder for them than in other series, particularly when guarded by Iguodala. Unlike in previous clips where Leonard's defender rarely turned to find him, here you can see Iguodala searching for Kawhi the moment Lowry puts up the shop, but he's still unable to keep Leonard from getting around him and grabbing a board, setting up another Lowry three-pointer.

The Warriors are aware of Leonard's danger on the offensive glass, but executing against him remains a difficult proposition. He's great at pulling in contested boards and few perimeter players are as good at reading a shot in the air as Leonard to be in position for a longer rebound — 47.5 percent of his rebounds have come on shots from 19 feet and beyond, per NBA.com/stats.
With their depth issues in the frontcourt and on the wing, the Warriors have struggled to keep the Raptors off the offensive boards in this series. Toronto owns a 22-15 advantage in that category, and while their seven in Game 1 doesn't seem like that many, it's a lot when factoring in they only missed 38 shots.
The Warriors halfcourt defense settled in for Game 2 and made life extremely difficult on the Raptors, but the great equalizer can be their work on the glass. Golden State countered that with DeMarcus Cousins in Game 2, who had a huge presence on the boards in helping them take the lead in the third quarter and hold on down the stretch, but the man that is so tough to account for on that end is the Board Man: Leonard.
Steph Curry can be at his most dangerous right after a pass because the defense can lose track of him as he relocates for a catch-and-shoot opportunity. For Toronto, Leonard has a similar quality in diving to the rim for boards late in the game. Iguodala, Klay Thompson, and the rest of the Warriors wings have to stay aware of his positioning as a shot goes up, because of the subtle movement to create himself a path to the rim.
In a series where both defenses are so stout, the team that can give itself more second-chance opportunities and shot attempts is going to gain a significant advantage. Early on that's been the Raptors and Golden State has to figure out how to keep them — and particularly Leonard — from those opportunities, especially in clutch situations where he's had such a big impact this postseason.