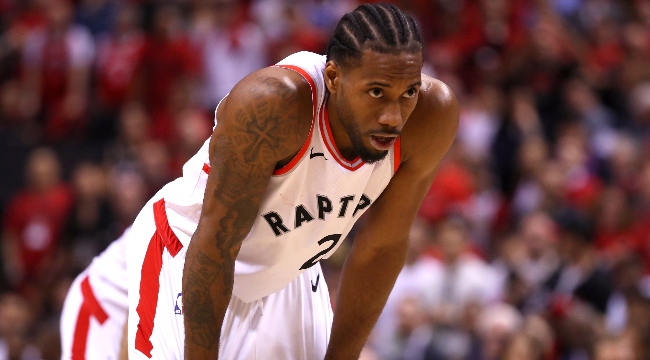 In the grand scheme of things, Kawhi Leonard didn't wait all that long to make his free agency decision earlier this month. Leonard took his time, especially compared to all the players who agreed to deals within the first few hours of the free agency period opening up, and eventually, he ended up joining the Los Angeles Clippers.
A popular theory is that Leonard waited out his decision in an attempt to hurt another team vying for his services, the Los Angeles Lakers. It's a theory that makes sense — Leonard is going to a rival squad, and by waiting it out and keeping L.A.'s other team on pins and needles, they lost their window to sign a number of players on the market. Leonard, however, wants it to be known that this was not the case.
The reigning NBA Finals MVP sat down with Chris Haynes of Yahoo Sports on Wednesday, the day of his introduction alongside Paul George. Leonard was asked about taking his time to make his decision, and he made it clear that his intention was not to hurt the Lakers or the other team that missed out on him, the Toronto Raptors.
"I didn't lead anyone on, really," Leonard says around the 3:18 mark of this video. "I took my time in free agency, as I should, make sure I made the best decision for myself and my family. I feel like some of the media coverage over it made it feel that way, people saying I'm signing with Toronto 99 percent or I'm going to the Lakers 99 percent. Whoever is telling those statements, you can't believe rumors.
"I don't wanna ever have that bad karma come back on me, trying to make the Lakers miss out on players they should have gotten or vice versa with the Raptors," Leonard continued. That's just bad karma for me to hold out longer just because they won't get players and they won't be competitive or whatever. I never thought of that, it was about just making my choice for me and my family. That's just how I feel about the situation, I don't ever wanna screw anybody over, I just feel like that's bad karma. If they didn't wanna wait for me, they didn't have to. They had a big opportunity to sign me, I was close, but I ended up on the other side."
Again, no one would have really blamed Leonard all that much if he tried to weaken the Lakers, which still ended up OK after the free agency dust settled. But understandably, that notion doesn't sit particularly well with him, and he found it important to dispel it.