Kendrick Perkins knows things, things we all want to know — but can't.
Perkins has the in with Kevin Durant, and now he knows all about K.D.'s impending 2016 free-agency venture, which is sure to be the talk of the offseason.
Well, maybe he doesn't know all, but he does know something, per ESPN's Chris Forsberg.
Perkins, a current member of the Pelicans who played for both the Celtics and Thunder for a number of years, had just finished up a game in Boston on Wednesday when reporters started asking about Durant, his teammate in Oklahoma City from 2011 to 2015.
Could he be coming to Boston? Could he be staying in Oklahoma City? Perkins has an idea. He just won't tell.
From ESPN:
Told that the Celtics likely will pursue Durant, Perkins replied, "Boston and everybody else, right?" Later he added, "As a friend, I try not to talk to him too much about free agency. I always try to just want to talk to him about things outside of basketball. We talk about personal life and stuff like that. And I know he's getting this question every day on the hour and stuff like that, so I try not to bother him.

"But he did shoot some teams out there that he made me sign a confidentiality form that I couldn't tell nobody. He's got a few teams that he will be looking at."
A confidentiality agreement? It's almost impossible to tell the tone of Perk's comments just from reading them, but is that serious? Because if it is, no wonder we haven't seen many leaks regarding Durant's free agency. Friends and family and teammates and advisers would be breaching contract if they told anything to anyone.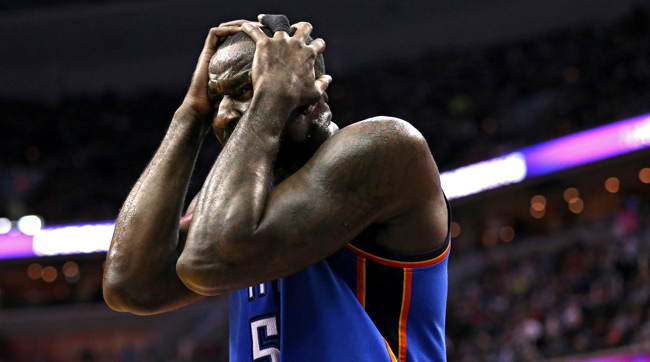 Even with more prodding, Perkins wouldn't spill the beans.
More from ESPN:
"You're trying to get me to really answer the question," Perkins said. "I can't answer that. I want to, but I can't. I mean, I don't know. I do know, but I don't know."

Perkins stressed that Oklahoma City's playoff performance this year likely will dictate Durant's decision.

"[The Thunder] win it all, he can't leave, in my opinion," Perkins said. "But if they don't, it might be time for a change."
The Thunder currently sit at 54-25, the third-best record in the Western Conference. In a normal year, that's a tremendous enough record to make you a discussed championship contender. Unfortunately for them, this isn't a normal year.
Oklahoma City remains 12 games back of the second-place, 65-12 Spurs and 15.5 back of the possibly all-time best 69-9 Warriors. The Thunder would have to get past both of those opponents just to make it to the Finals, no easy task.
Durant has options beyond signing a long-term deal this summer. He could re-sign with OKC on a one-year contract (maybe with a player option for the second year), as well, waiting for the cap to spike even more in 2017 so that he can make more money and make a free-agency decision alongside Russell Westbrook, who also hits the open market in the summer of 2017. In that sense, he doesn't have to make a longterm decision right now — or even in July. He can put it on hold until next year.
But for now, we can only speculate. Kendrick Perkins, though, that dude knows all.
(ESPN)
Now Watch: Gregg Popovich And Tim Duncan Couldn't Stop Laughing As A Mavs Rookie Taunted The Spurs