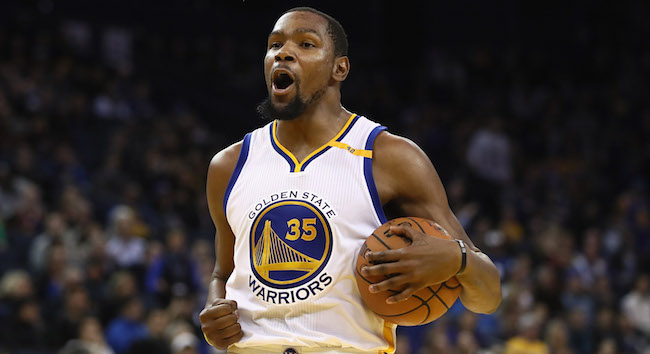 Forget about Kevin Durant's current spat with Rihanna, the Golden State Warriors star has had some romantic history recently come to light. An US Weekly report says that Durant had a "pretty serious relationship" with the current star of "The Bachelorette."
Durant and Rachael Lindsay were a couple while the two attended the University of Texas, according to the report.
"They broke up when she went to law school," the insider told Us, adding that the split was amicable. "It was a pretty serious relationship."

Lindsay, 31, was a sports medicine major at Texas, while the 6-foot-9-inch Durant, now 28, was showing what he can do on the basketball court, averaging 25 points per game, winning various national accolades while leading the Longhorns to the second round of the NCAA Men's Basketball Championship.
Lindsay has appeared twice on the ABC-realted dating properties. She first appeared on Season 21 of The Bachelor and became a fan favorite, though she did not accumulate the necessary roses to win Nick Viall's heart. She's currently the newest contestant on 'The Bachlorette,' which started Season 13 last month.
Durant, meanwhile, is three games away from hist first NBA title after a stellar Game 1 performance in the NBA Finals on Thursday. He even found time to stare down Rihanna after she sent some trash talk her way.
There's no word on what Durant has to say about Lindsay or Rihanna, though I'm sure reporters will now be asking him about much more than the 38 points in 38 minutes he had in Game 1.