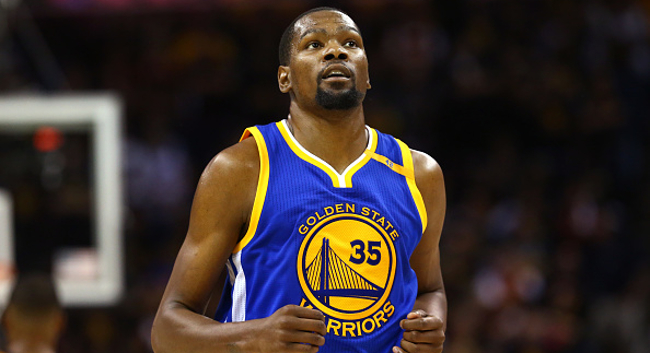 One of Wednesday night's best games is expected to be the showdown between the Golden State Warriors and the Minnesota Timberwolves. The two teams are at the top of the Western Conference standings early in the season, with the Dubs checking in at 8-3 and the Wolves sitting at 7-3 thus far. They're also the two hottest teams out west, as Golden State is sitting on a five-game winning streak while Minnesota's current streak is sitting at four games.
But unfortunately, the matchup between Kevin Durant and Minnesota's wing duo of Jimmy Butler and Andrew Wiggins won't go down as planned. That's because Durant is slated to miss the game with an injury to his left thigh, according to the Warriors' PR team.
Durant played 33 minutes and filled up the box score on Monday night during Golden State's 97-80 win against Miami on Monday night, going for 21 points, eight rebounds, six assists, and three blocks.
There is no word on when he suffered the injury or whether it will hold him out for more than one game, but we'll keep you updated as more information comes in. At the very least, Durant now has more time to have some fun in the comments section of Warriors rookie Chris Boucher's Instagram.