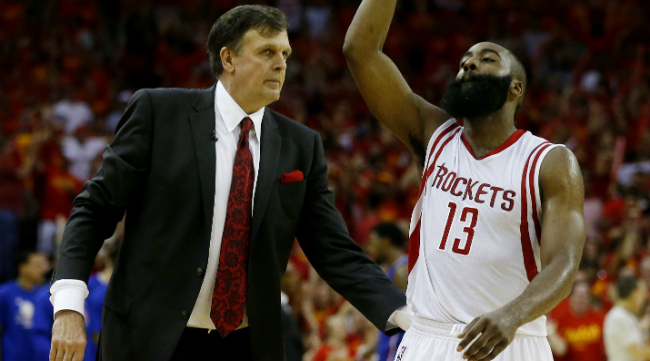 Kevin McHale was James Harden's first head coach in Houston. From the moment the Rockets acquired Harden in a trade with the Oklahoma City Thunder until he was fired in November of 2015, McHale got a front row view of Harden as he became the team's franchise player. Apparently, McHale noticed that one of Harden's biggest weaknesses while he was the coach has not gone away.
McHale made a cameo on NBA TV's Open Court and talked about the dynamic between Harden and the recently-acquired Chris Paul. Namely, McHale believes this was a big acquisition because Paul's ability to lead will free up Harden to do what he's good at, according to Space City Scoop.
"James is not a leader," McHale said. "He tried being a leader last season, tried doing all that stuff. I think Chris Paul is going to get him back into being able to hoop and play."
McHale also said that Harden isn't the kind of authoritative player who can get his teammates to do something, saying "If James tells you, 'Chuck, you gotta play better D,' are you listening to him? You gotta be kidding me, I lived through it, believe me."
Of course, things could have changed in the two years and Harden might have evolved as a leader since McHale was fired, especially as Mike D'Antoni became the Rockets' head coach and made Harden the team's point guard. But either way, even though there's plenty of praise for Harden in here, this isn't exactly a ringing endorsement from his former head coach.
(Via Space City Scoop)