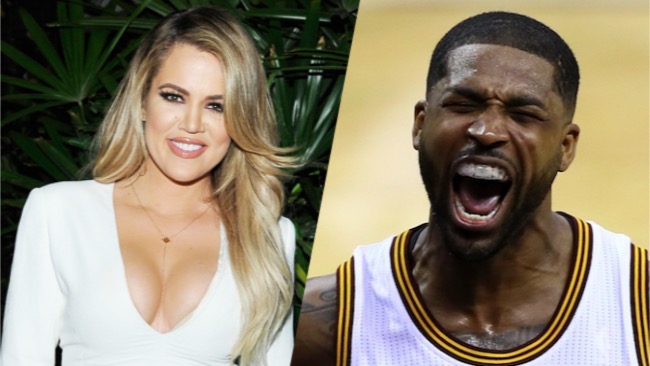 UPDATE: According to ESPN, the two are not engaged to be married.
We will keep you updated on this extremely important sports story!
— // —
Do you hear wedding bells??? (That's how all entertainment stories about celebrity engagements are required by law to begin) Khloe Kardashian of the show where her family does stuff and Tristan Thompson of the Cleveland Cavaliers are engaged to be married after two months of dating, according to HollywoodLife.com, a site that seems to be real.
"Tristan got down on one knee and asked Khloe to marry him," an insider tells InTouch magazine, and the Strong Looks Better Naked star agreed to become his wife! "She's delighted to be engaged and can't wait to tie the knot early next year." Khloe, 32, and Tristan, 25, are reportedly already making plans to have a romantic extravaganza that rivals the wedding of Kim Kardashian, 35, and Kanye West, 39.

"Khloe and Tristan plan on spending at least $1 million on their big day," the source tells InTouch, "and they plan to invite 400 guests." Thankfully, that massive amount of people won't have to travel far, as Khloe and Tristan reportedly want to hold their wedding ceremony in California.

Exclamation points, anonymous relationship sources. Entertainment writing seems way more exciting than sports writing, doesn't it?
Something else that story mentions is Thompson's ex-girlfriend is pregnant and maybe it's his baby. This post is going to get me noticed by Maury Povich's people, and I'll have a new life before you know it.
This is the part of the story where I'm supposed to be like, "Oh no! Khloe is going to ruin Tristan Thompson's game! And his career!" but I'm not going to be that guy. Who wants to be the person that blames Aaron Rodgers' struggles on Olivia Munn instead of wide receivers that can't beat 1-on-1 coverage and a decimated backfield? I mean, I know who wants to be that person but that's not how I choose to mold the clay that is a story. I've got some morals.